Regular price
Sale price
$17.00 USD
Unit price
per
Sale
Sold out
Nourishing, Moisturizing, Soothing, Protective, Antioxidant-rich, Replenishing, Radiance-boosting, Natural, Organic, Locally-produced.
Discover the secret to flawless, radiant skin with our Perfection Impurities Cream "Suculenta". Loaded with the nourishing goodness of Aloe Vera, coconut oil, and a unique blend of hydrating ingredients, this cream replenishes, soothes, and protects your skin, tackling impurities for a naturally radiant glow. Crafted with love and care in our farms in the Algarve, Portugal, our cream ensures that your skin receives the purest, most potent skincare solution. Experience the transformative power of nature with Suculenta.
View full details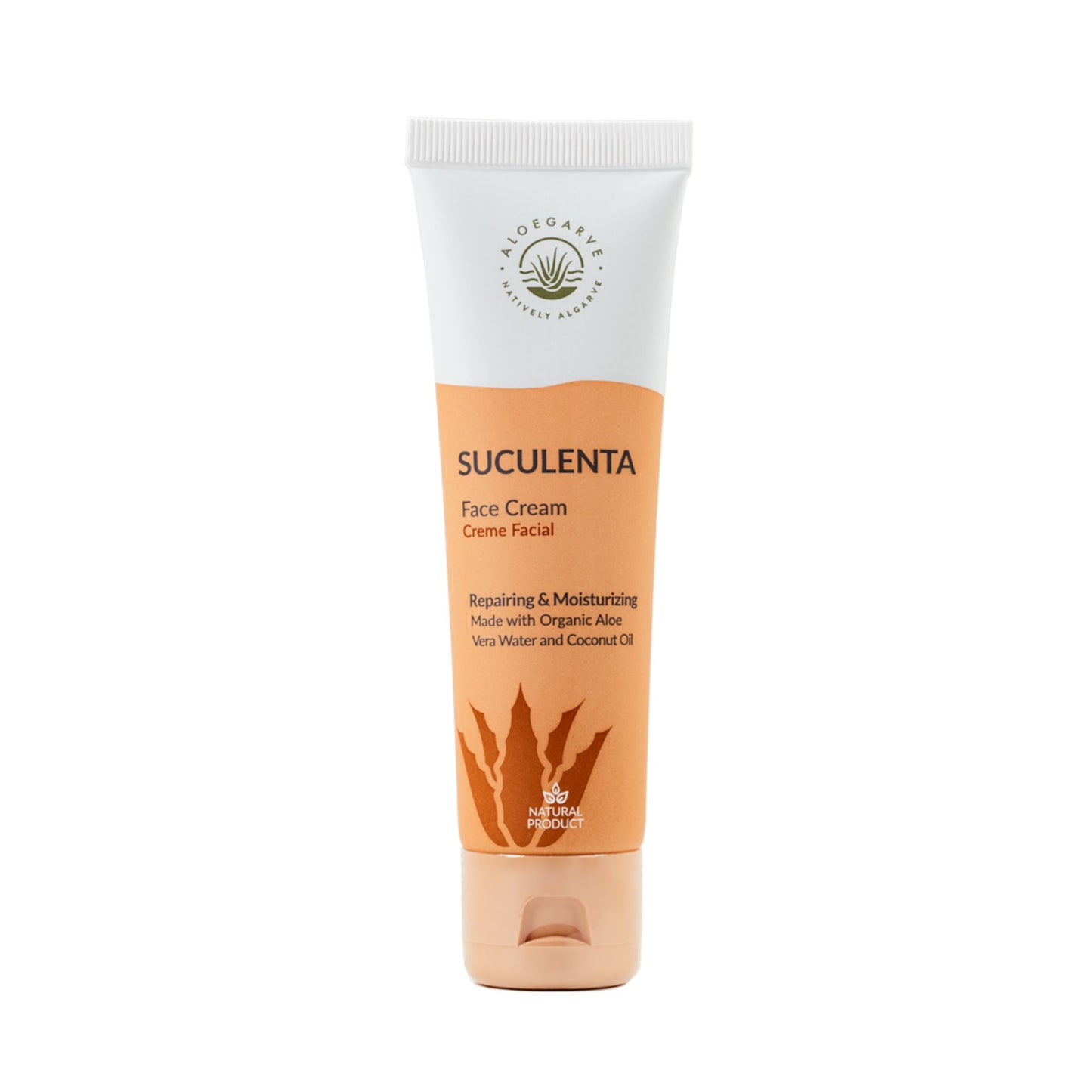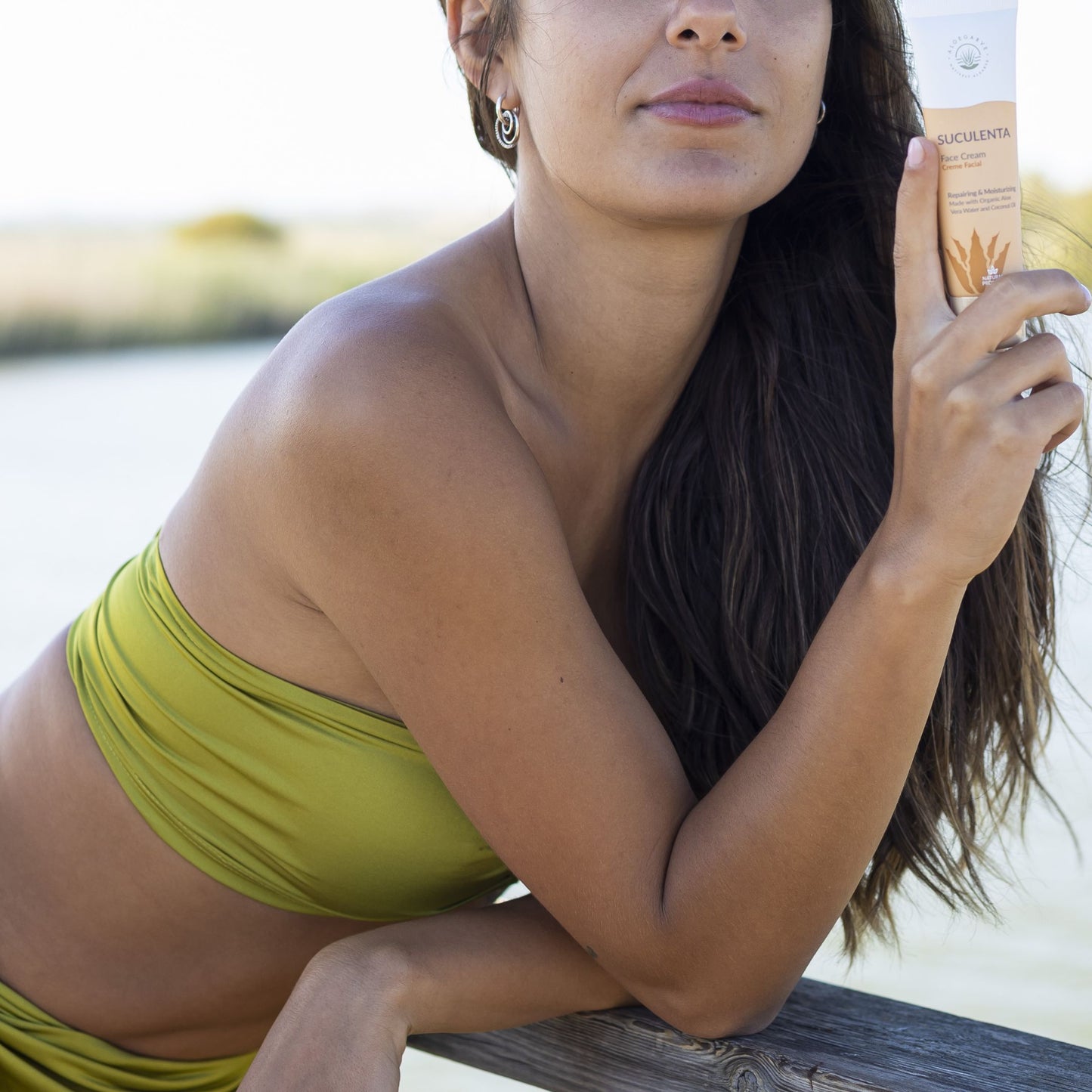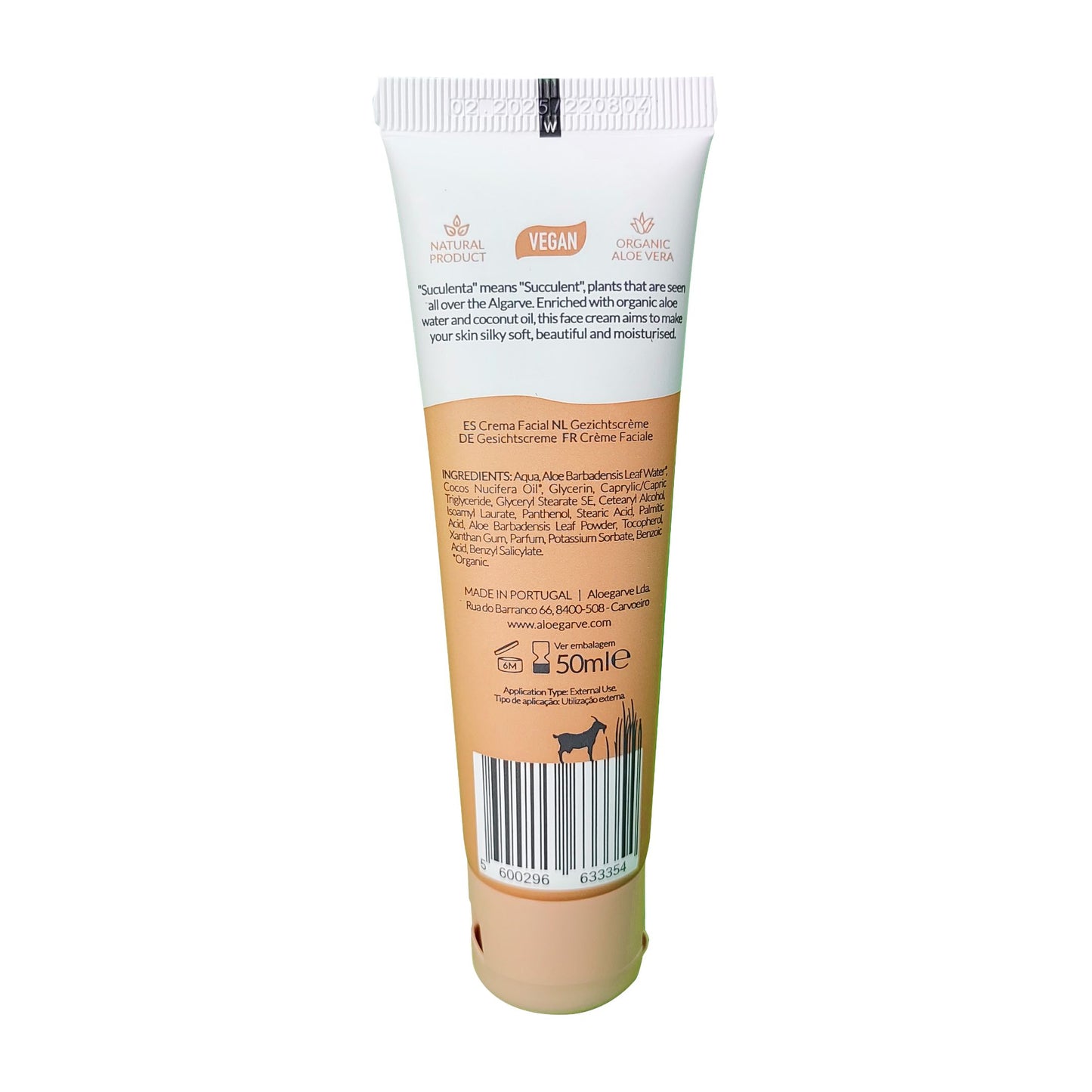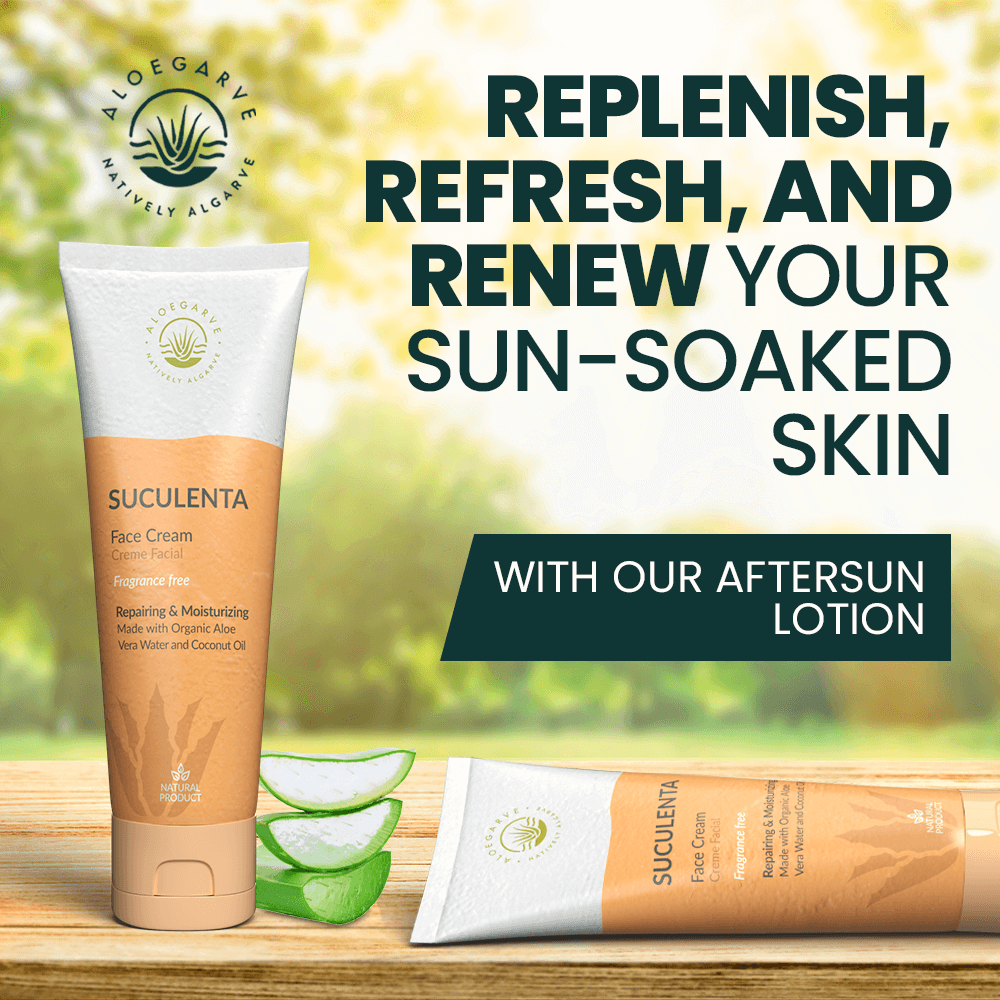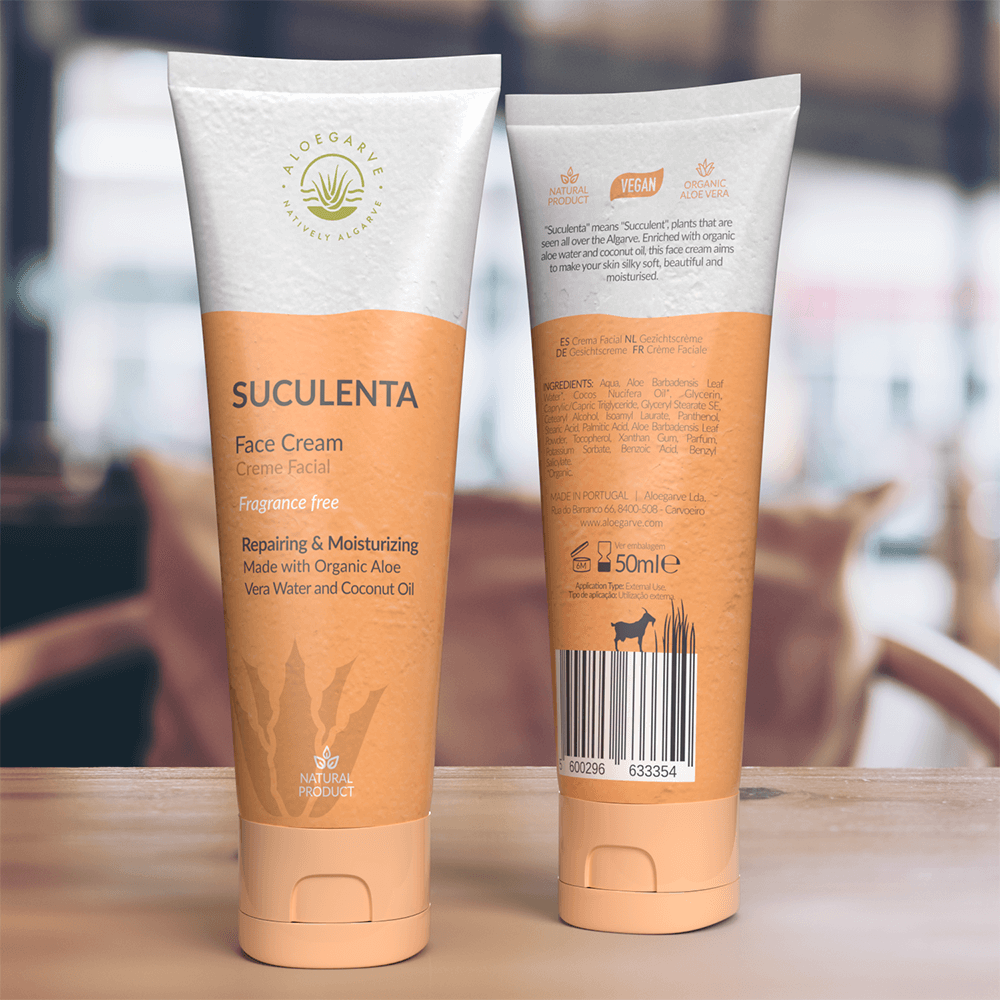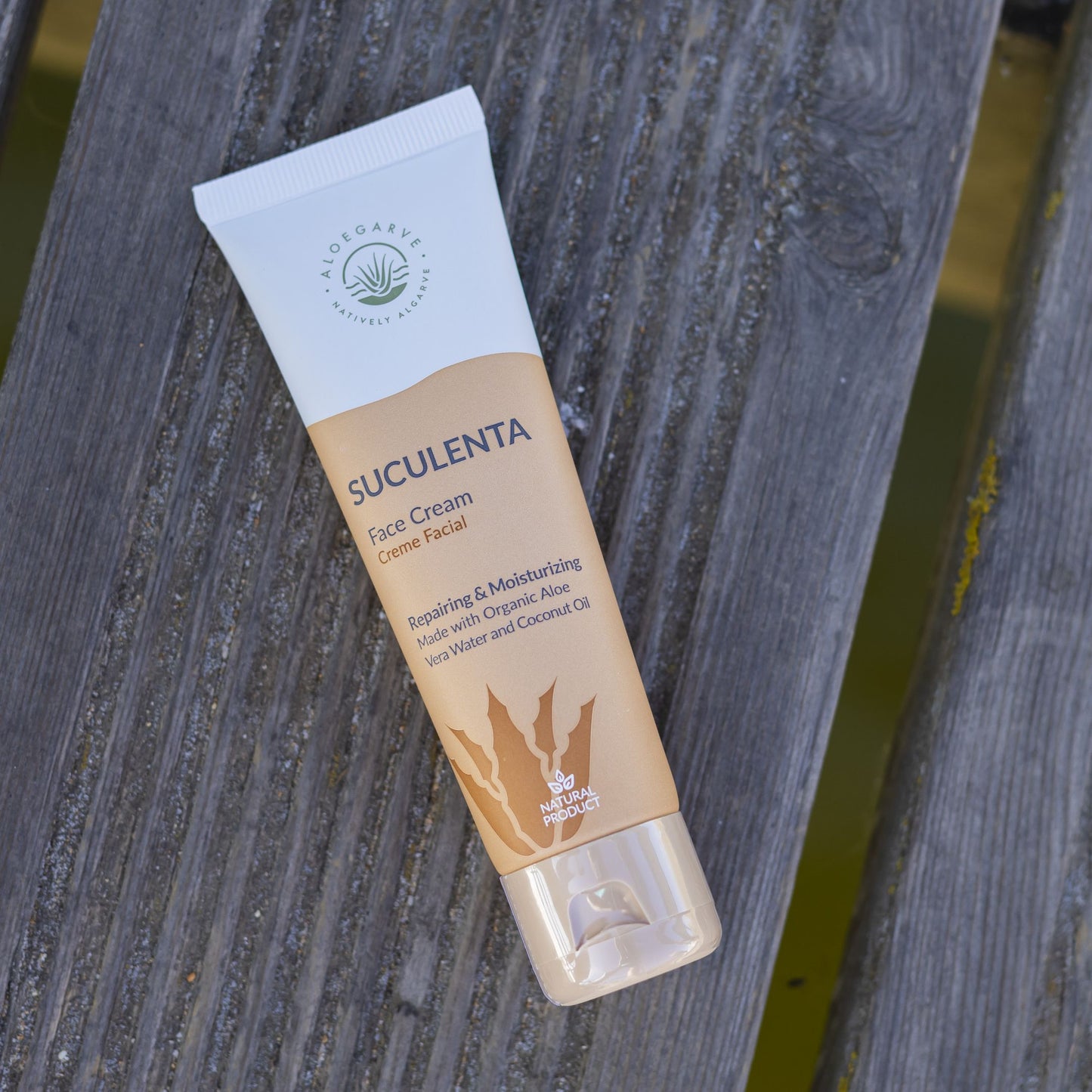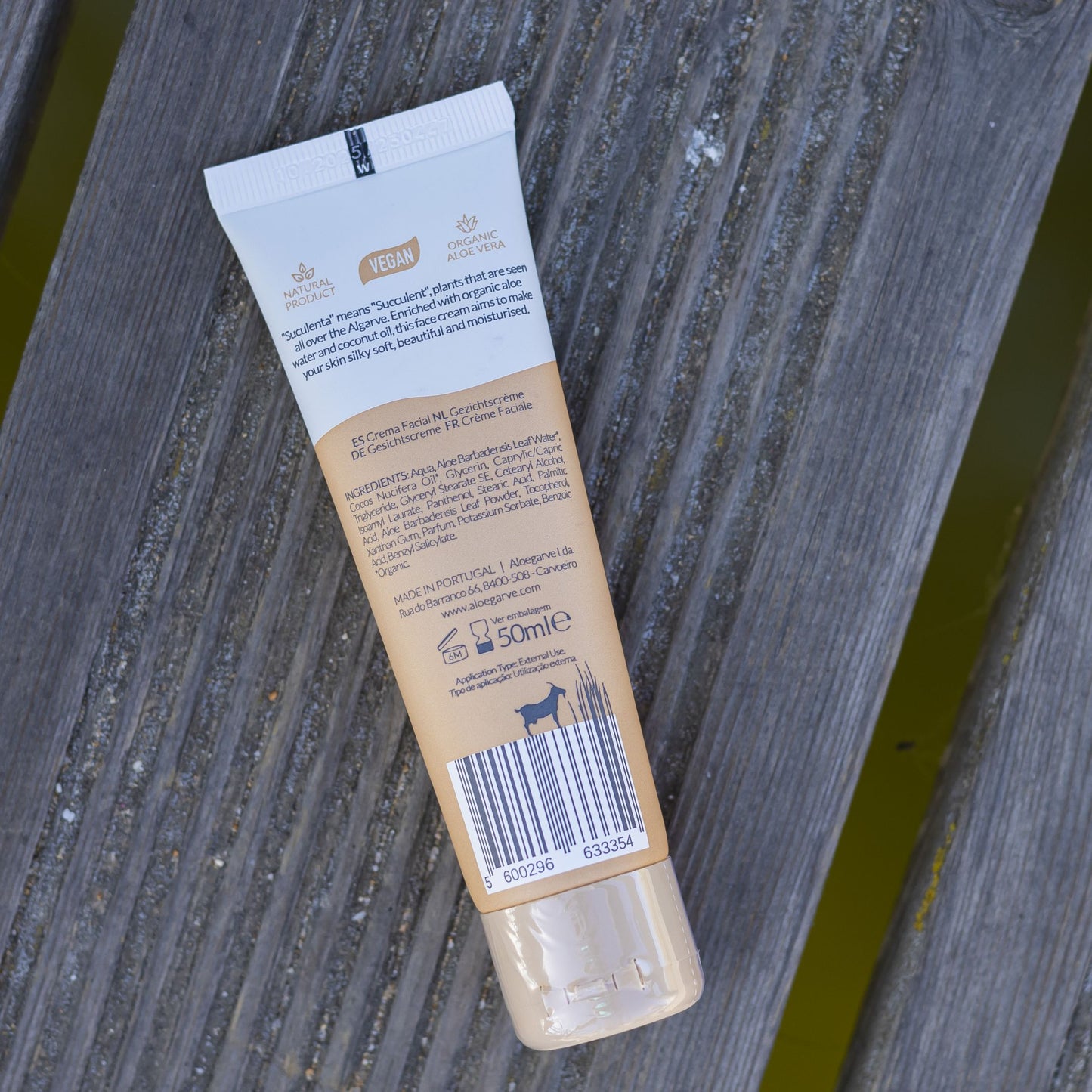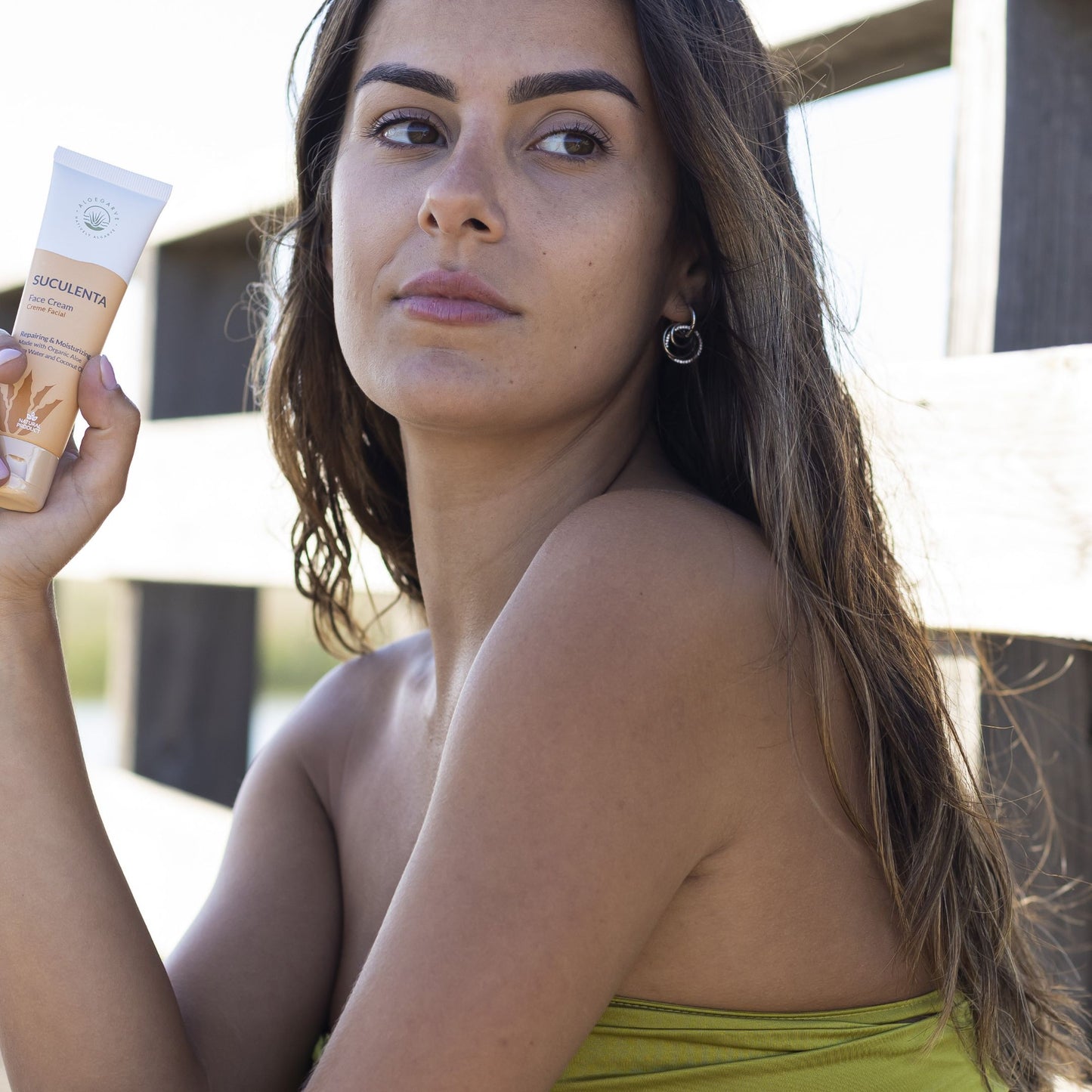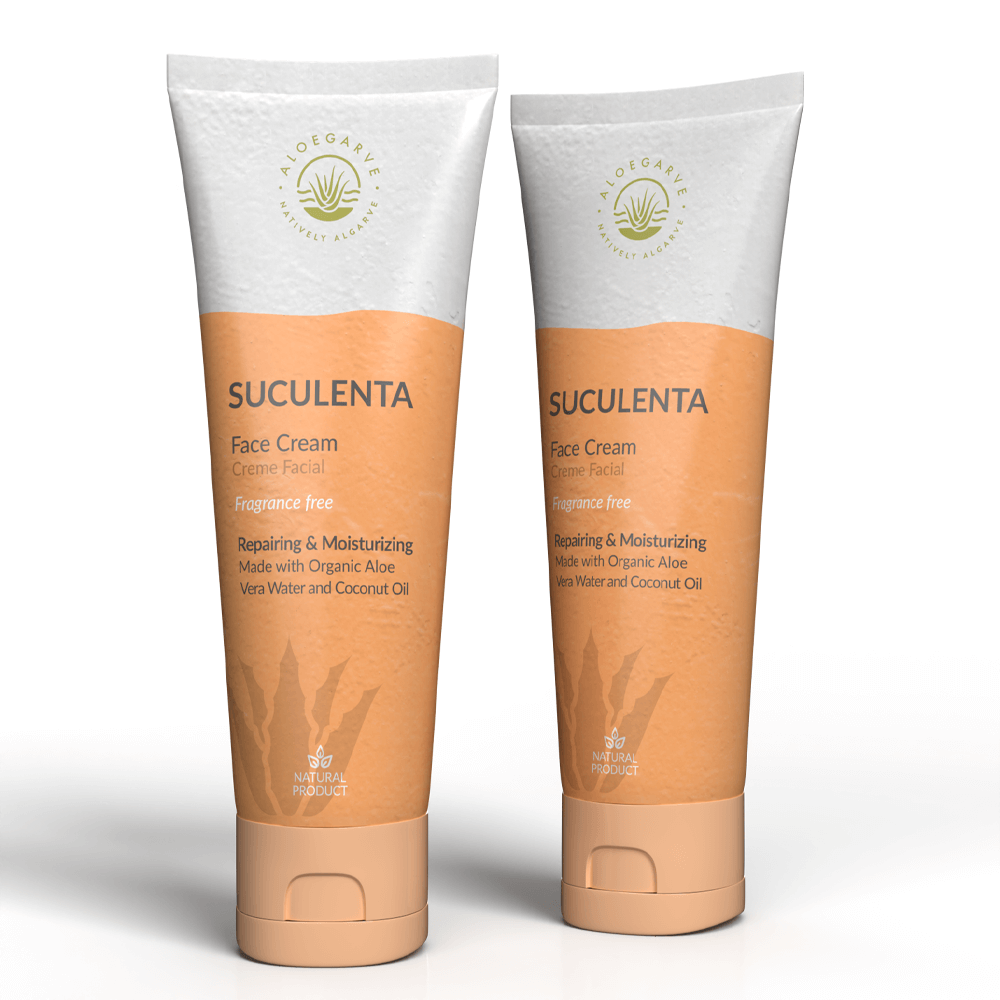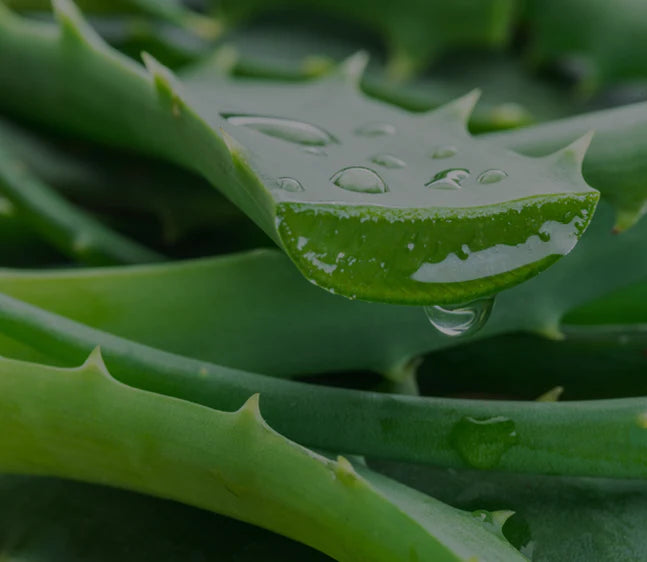 Benefits Of Aloe Vera
Indulge your skin with our luxurious Perfection Impurities Cream "Succulenta". This premium skincare product embodies the very essence of nature's healing and rejuvenating power, brought to you straight from our organic Aloe Vera farms in the Algarve, Portugal.
"Succulenta" is meticulously formulated with a high concentration of Aloe Barbadensis Leaf Water and Aloe Barbadensis Leaf Powder, the components revered for their potent moisturizing, soothing, and nourishing abilities. These work harmoniously with Cocos Nucifera (Coconut) Oil, known for its deep hydration properties and ability to reinforce the skin's natural lipid barrier. It helps to lock in the moisture, leaving your skin feeling soft, smooth, and supple.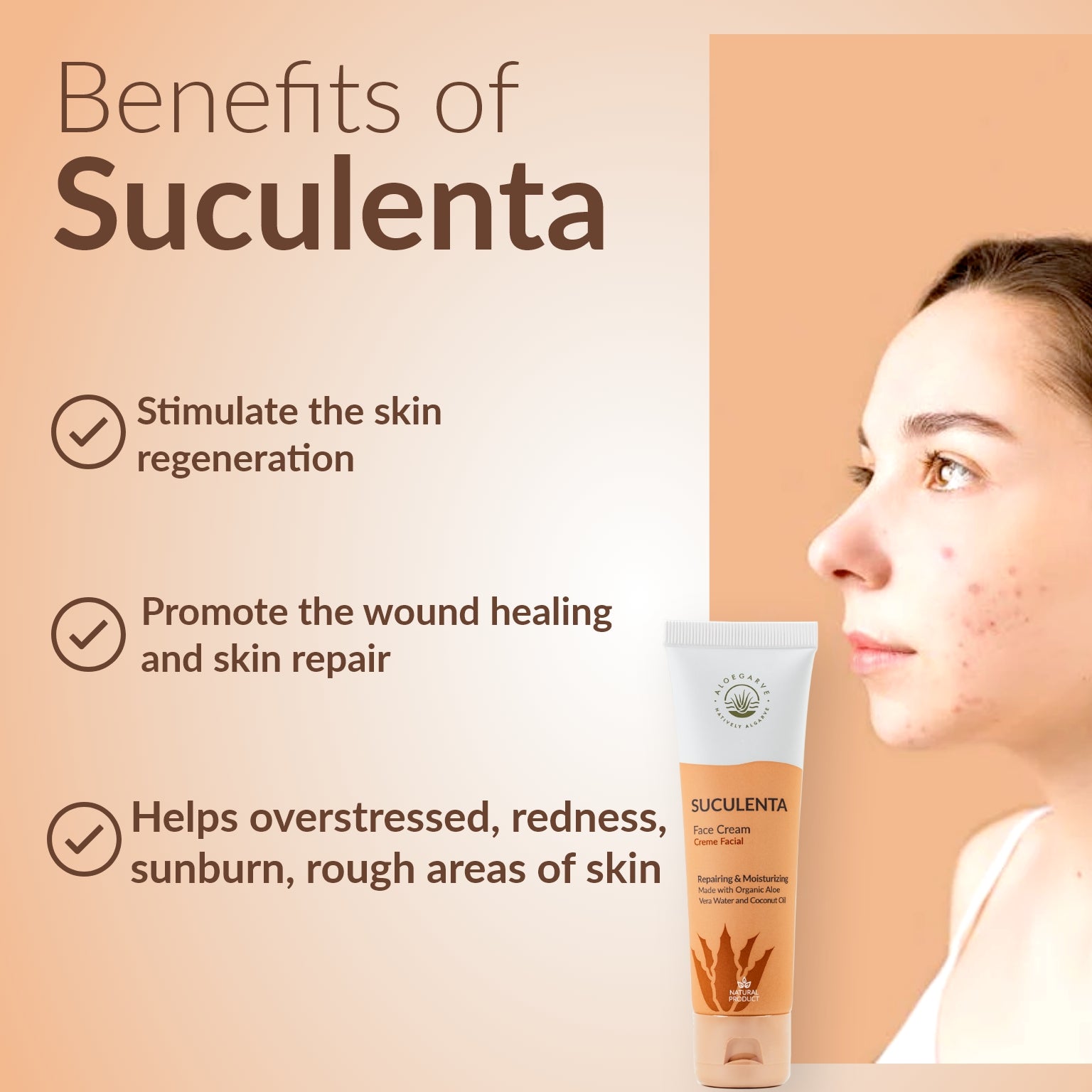 The cream is also enriched with Glycerin, a powerful humectant that attracts and retains moisture to the skin, thus preventing dryness and ensuring skin stays moisturized throughout the day. Caprylic/Capric Triglyceride is another star ingredient in our formula, sourced from coconut oil and glycerin, which further enhances the product's moisturizing abilities while giving it a lightweight, non-greasy feel.
One of the unique features of "Succulenta" is the presence of Panthenol, a derivative of Vitamin B5, known for its ability to soothe irritated skin and enhance skin's hydration, elasticity, and smooth appearance. Another crucial component is Tocopherol (Vitamin E), a potent antioxidant that protects your skin against environmental damage and helps to maintain a youthful glow.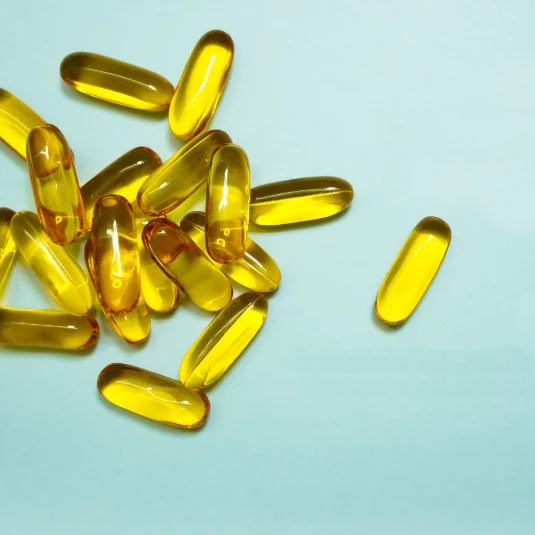 Benefits of Vitamin E
Our Perfection Impurities Cream "Succulenta" stands out as an emblem of purity, effectiveness, and sustainability. Each ingredient has been chosen with the utmost care to ensure the highest efficacy while keeping the product's footprint minimal on the environment. Every step, from farming the Aloe Vera to creating the final product, happens under our careful supervision, ensuring that you get nothing but the best.
But the advantages of "Succulenta" go beyond its impressive ingredient list. The cream serves a dual purpose - not only does it work as an intense moisturizer, but it's also designed to target skin impurities. It aids in clearing the skin, reducing the appearance of blemishes, and giving you a flawless, radiant complexion.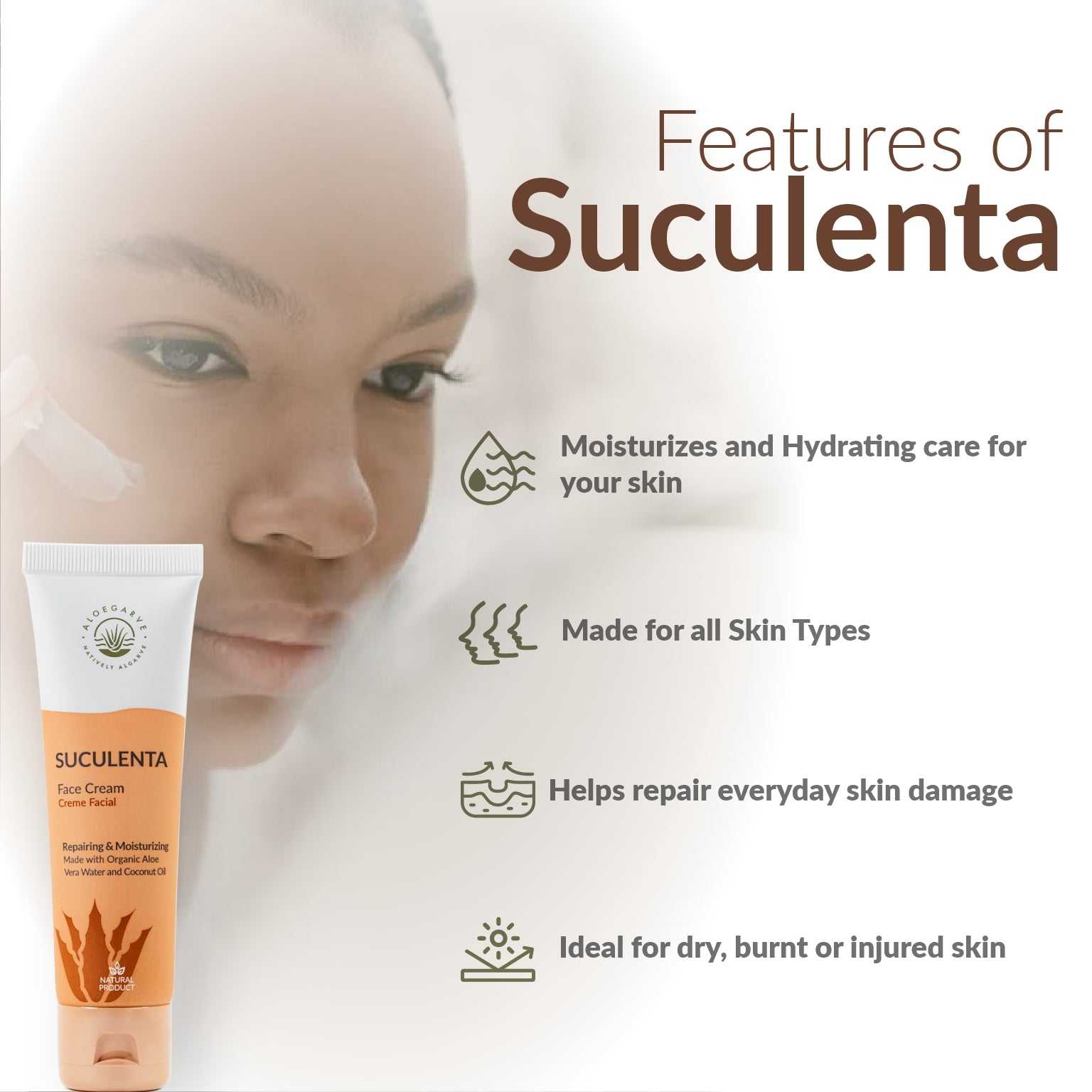 This cream carries a subtle, pleasing fragrance that adds a sensory delight to your skincare routine. As you apply it onto your skin, it absorbs quickly without leaving any greasy residue, making it suitable for all skin types - even those with oily or combination skin.
In a world where skincare often feels complicated, our Perfection Impurities Cream "Succulenta" simplifies things. It's a testament to our belief that nature holds the key to perfect skin. Discover the magic of pure, potent, and natural ingredients with "Succulenta" - your skin will thank you.

Our Aloe Vera Farming
Our Aloe Vera production is located in the Algarve, a sunny region in the south of Portugal.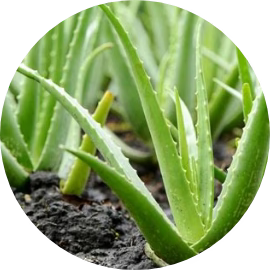 UNIQUE AGRICULTURE AND CONCENTRATION
We do not treat our Aloe Vera plants with any pesticides so that they can grow naturally and maintain their natural properties.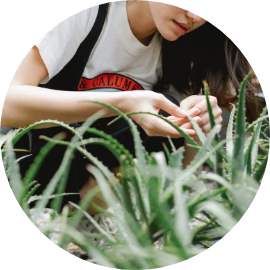 No Pesticides
We farm our fields with traditional methods and treat each plant with love and care.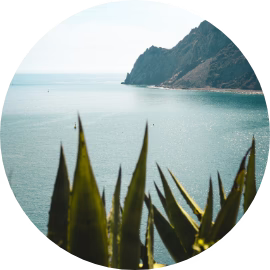 Close to the Atlantic Ocean
With close proximity to the Atlantic Ocean (5 km from the sea), our plants breach fresh sea air.
Skin Type

Combination

Ingredients

Aqua, Aloe Barbadensis Leaf Water*, Cocos Nucifera Oil*, Glycerin, Caprylic/Capric Triglyceride, Glyceryl Stearate SE, Cetearyl Alcohol, Isoamyl Laurate, Panthenol, Stearic Acid, Palmitic Acid, Aloe Barbadensis Leaf Powder, Tocopherol, Xanthan Gum, Parfum, Potassium Sorbate, Benzoic Acid, Benzyl Salicylate *Organic

Benefits of Active Ingredients

• Aloe Barbadensis Leaf Water and Powder: Known for its hydrating and soothing properties, Aloe Vera can help moisturize the skin and reduce inflammation.

• Cocos Nucifera (Coconut) Oil: This oil is excellent for hydrating and nourishing the skin. It is known for its ability to lock in moisture and can also provide a barrier that protects the skin from environmental damage.

• Glycerin: A powerful humectant, Glycerin helps draw moisture into the skin, keeping it hydrated and healthy.

• Panthenol: Also known as Provitamin B5, Panthenol has good skin penetration and moisturization properties. It can help improve skin hydration and reduce redness.

• Tocopherol: Also known as Vitamin E, Tocopherol is a potent antioxidant that can help to protect the skin from environmental stressors.
Instructions to Use:
Apply a generous amount of the Perfection Impurities Cream "Succulenta" to clean, dry skin. Massage it gently until fully absorbed. Use daily in the morning and at night for best results.
Warnings:
For external use only. Avoid contact with eyes. If contact occurs, rinse thoroughly with water. Discontinue use if signs of irritation or rash appear. Keep out of reach of children.