Regular price
Sale price
$25.00 USD
Unit price
per
Sale
Sold out
Hydration, Nourishment, Skin Immunity Boost, Antioxidant, Relaxation,Natural Ingredients, Soothing, Rejuvenating, Rich Texture, Sensory Experience.
Replenish, hydrate, and fortify your skin with our Skin Immunity Boost Body Cream "Maré". A rich blend of natural ingredients boosts your skin's natural immunity, provides intense hydration and nourishment, and leaves your skin feeling soft, supple, and revitalized.
View full details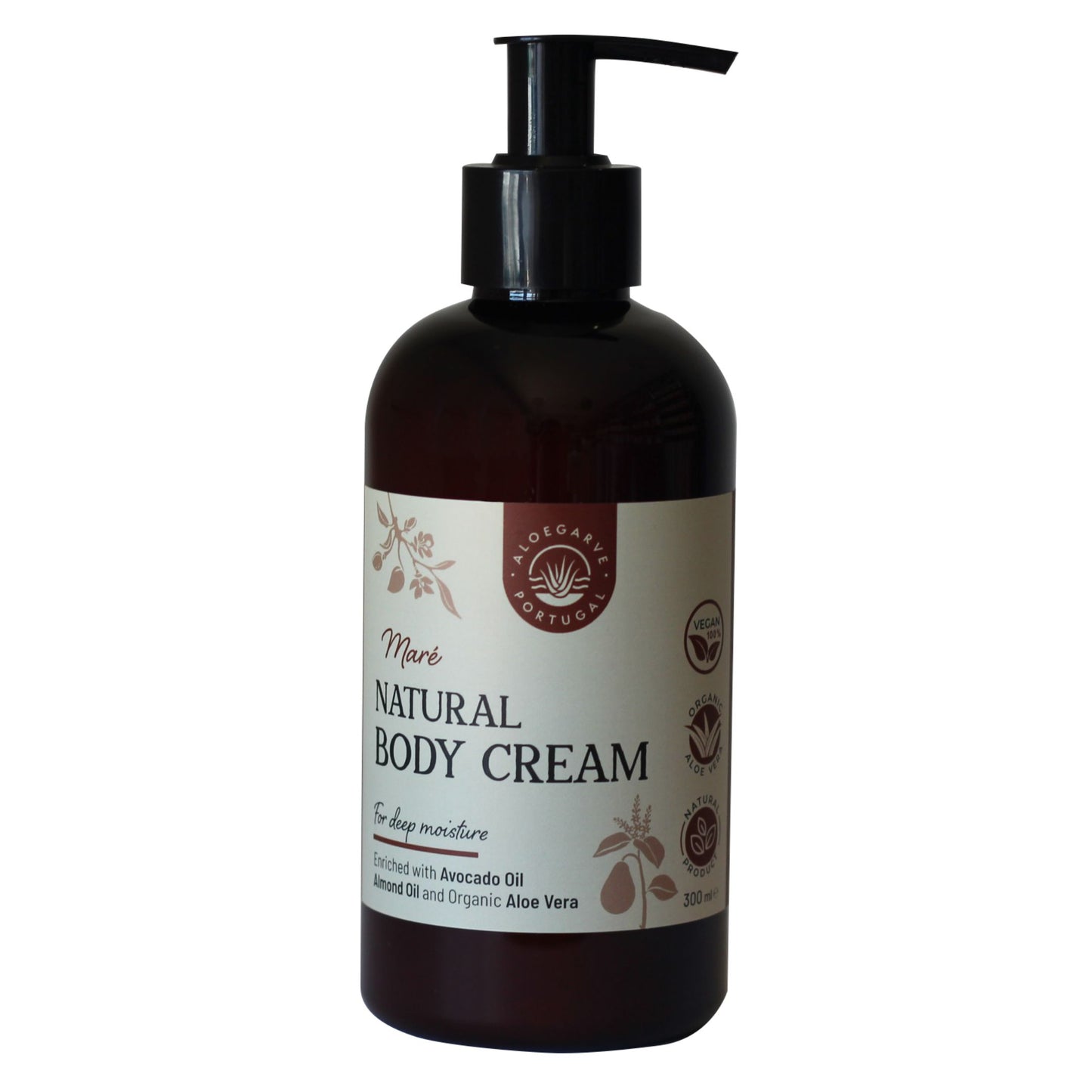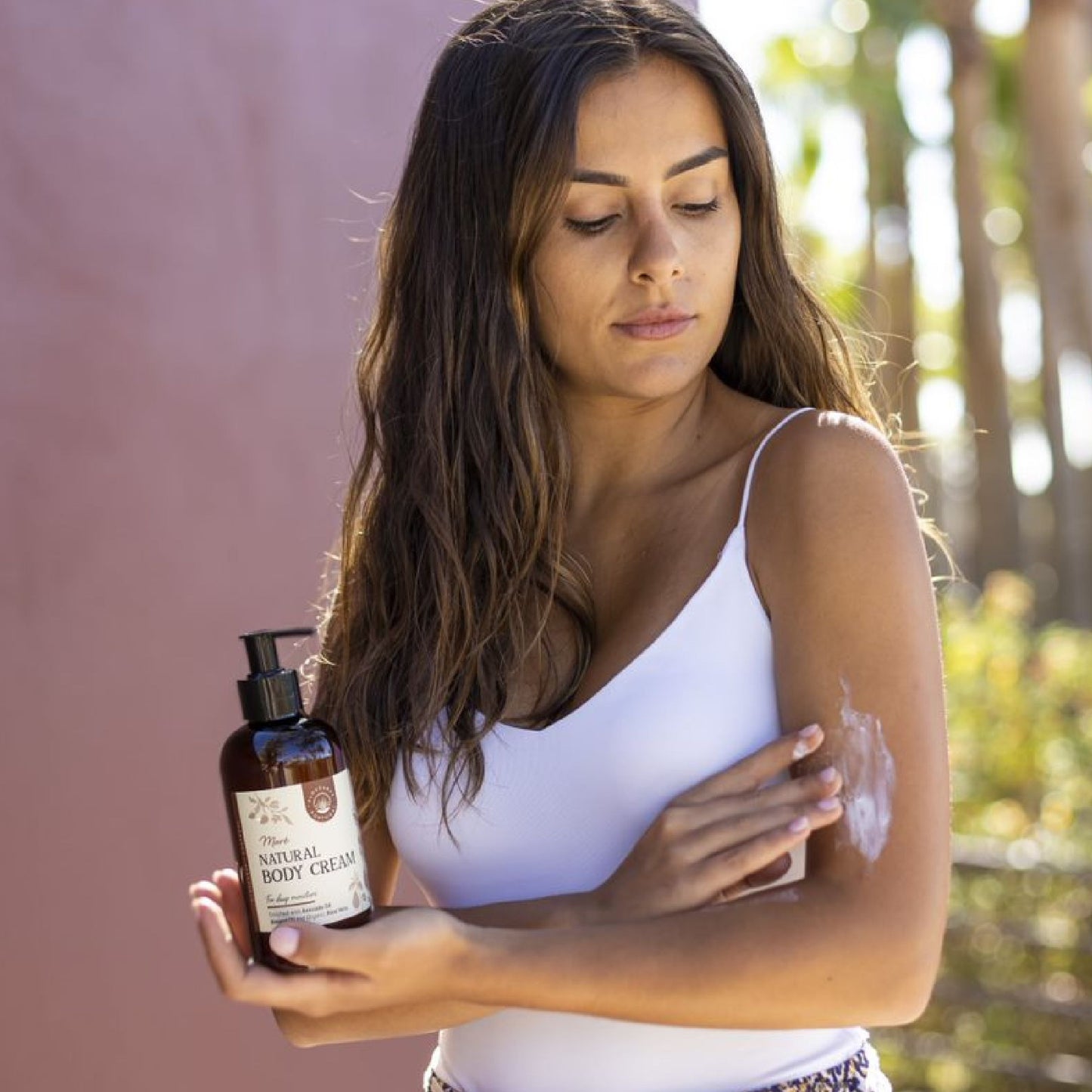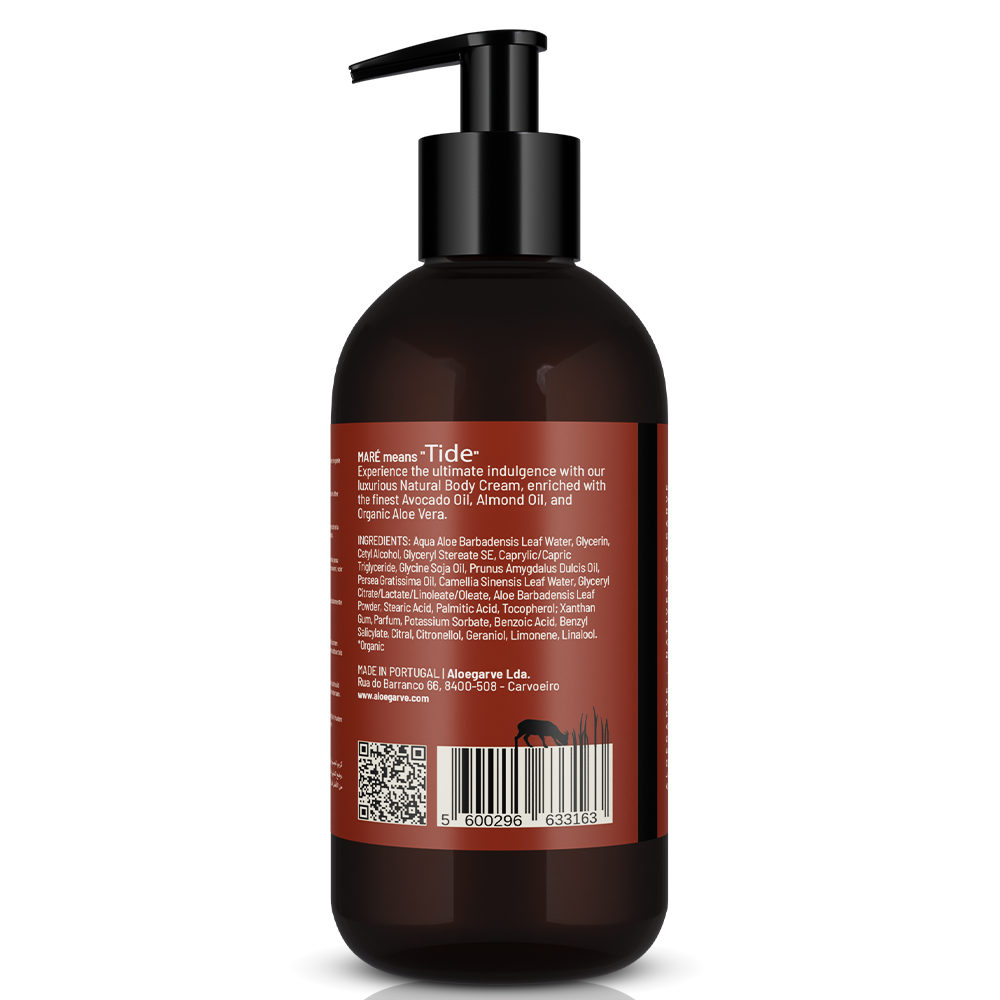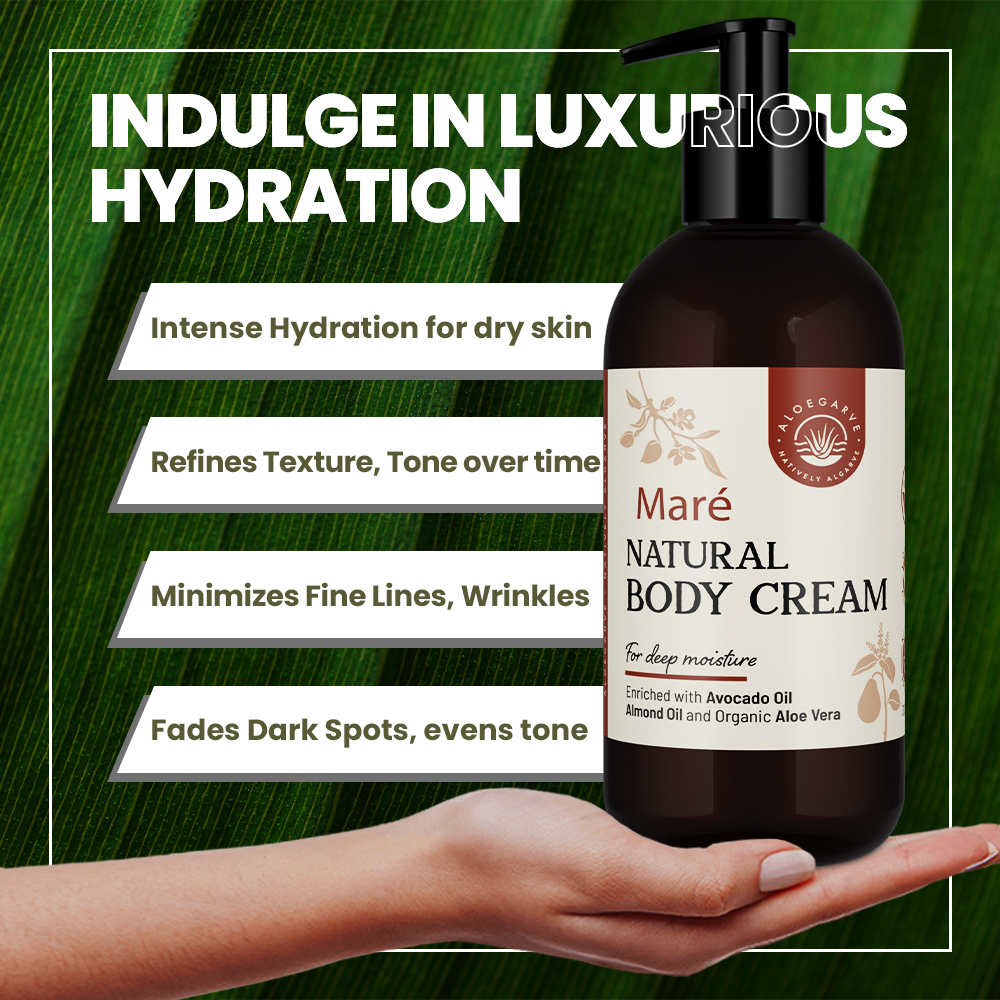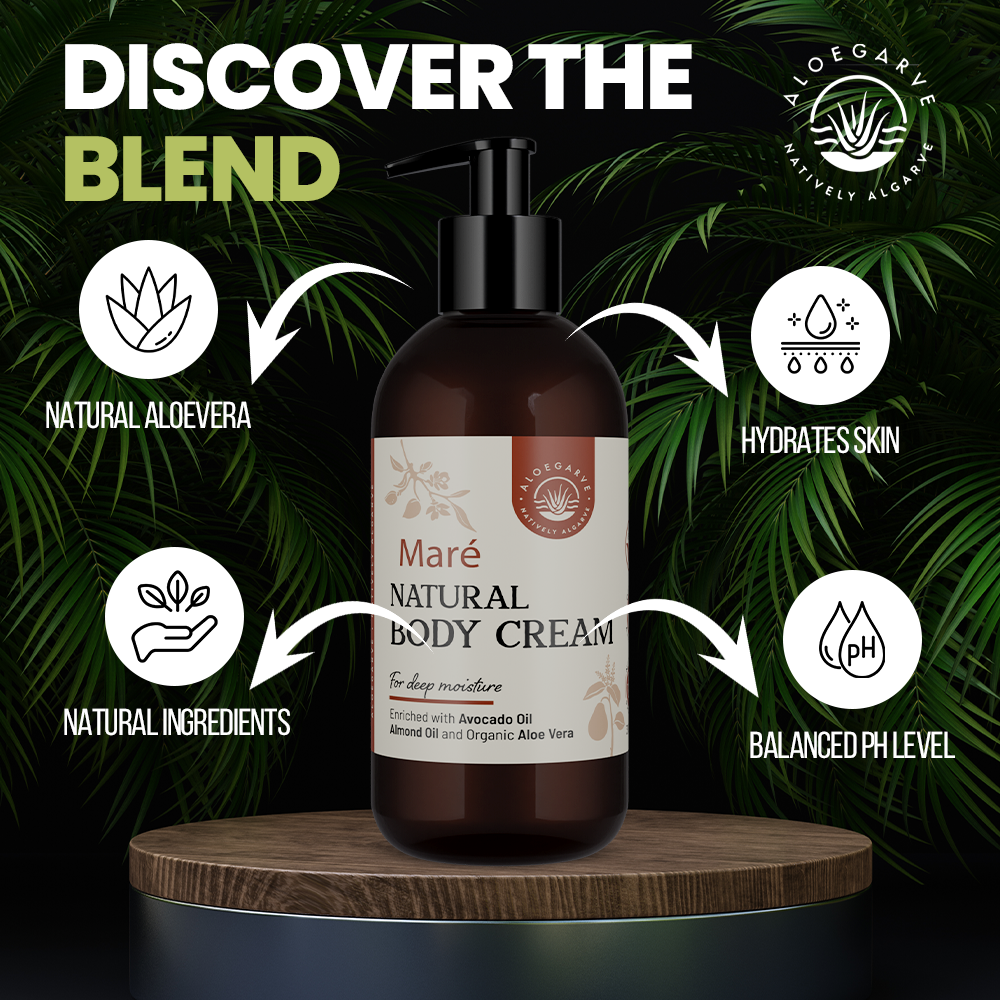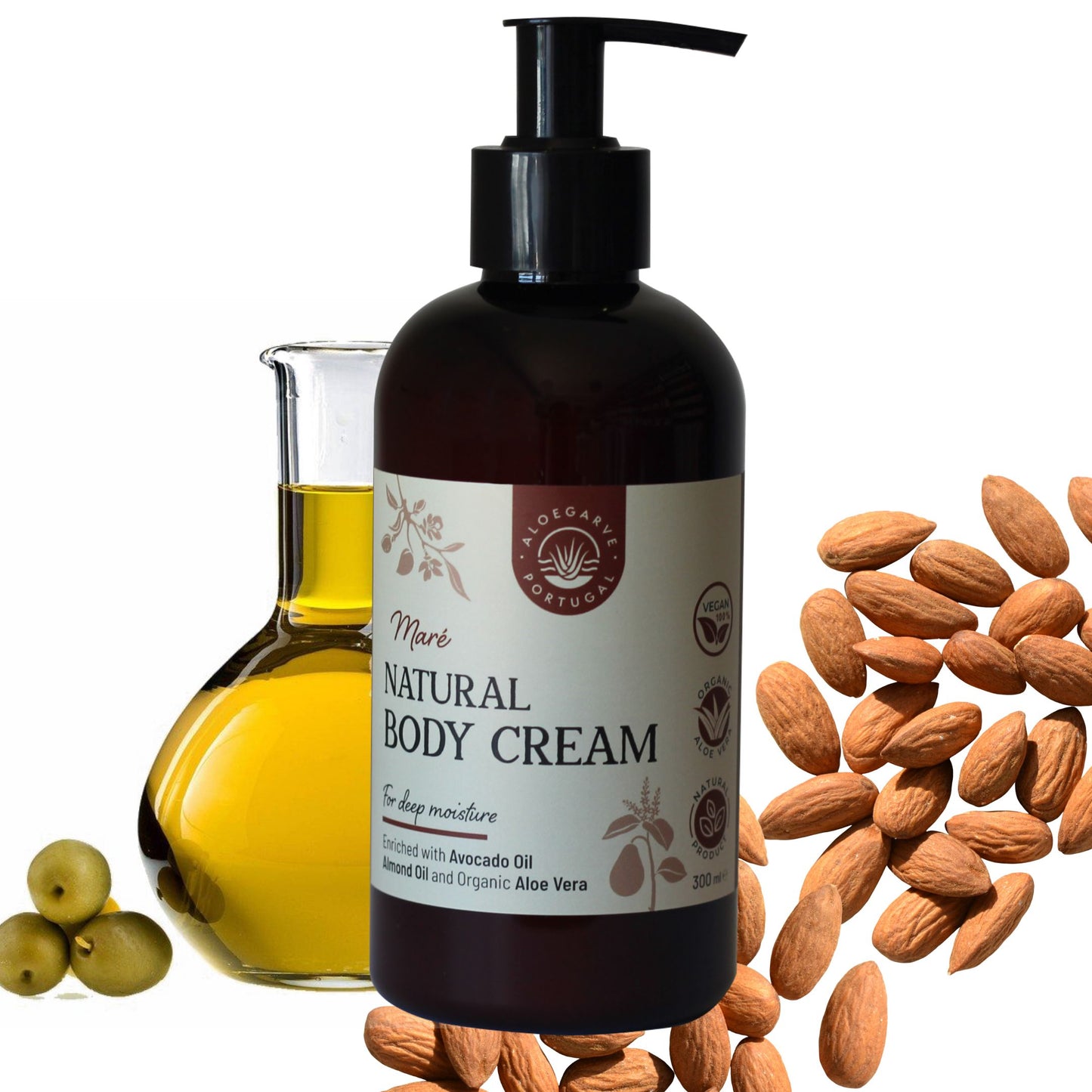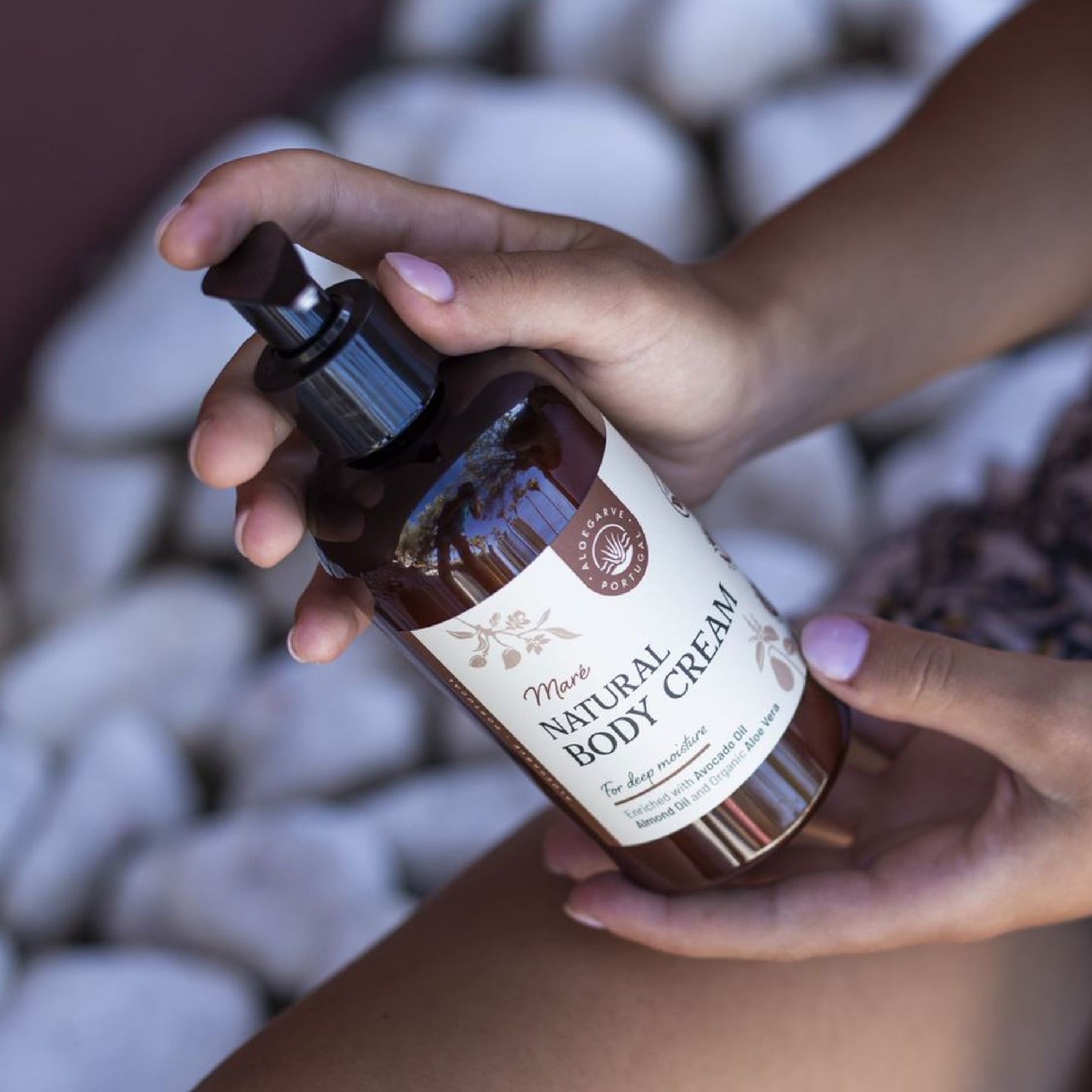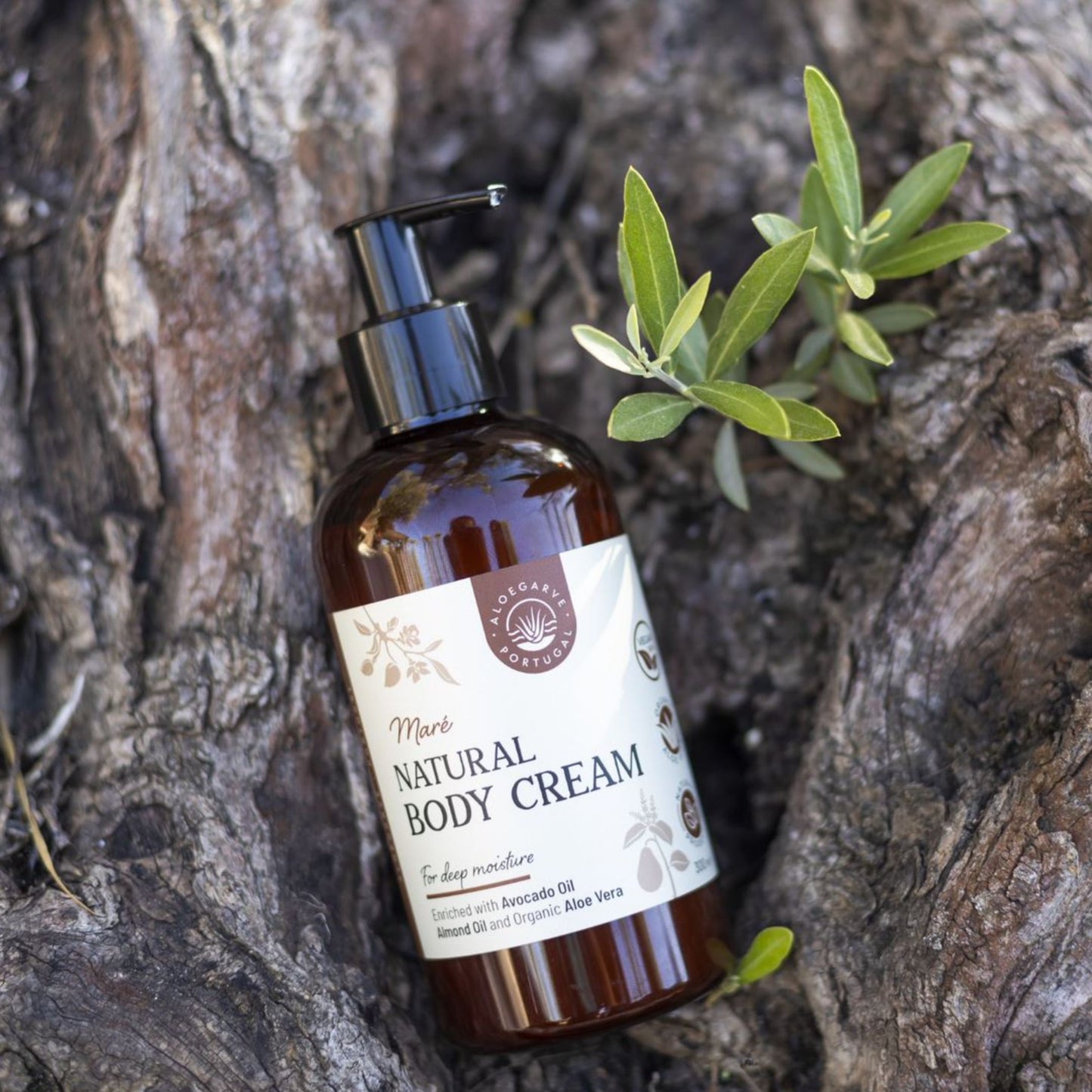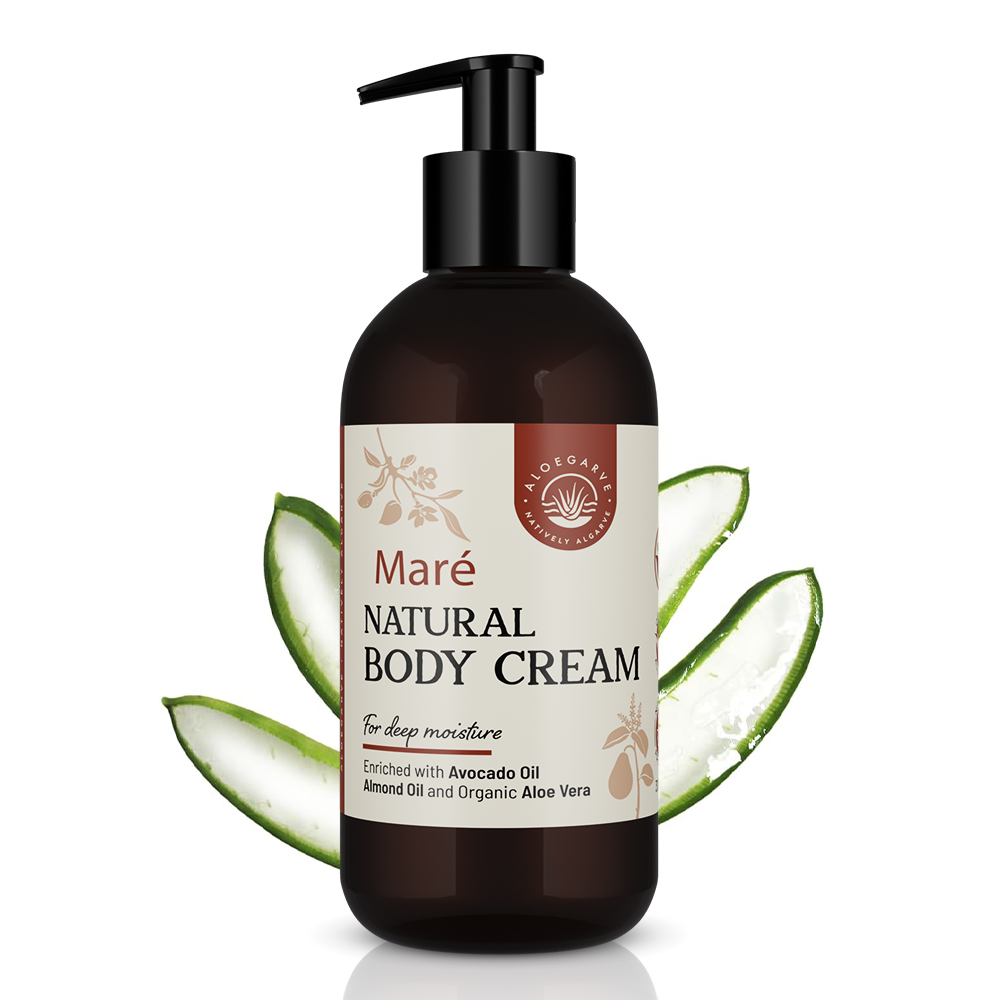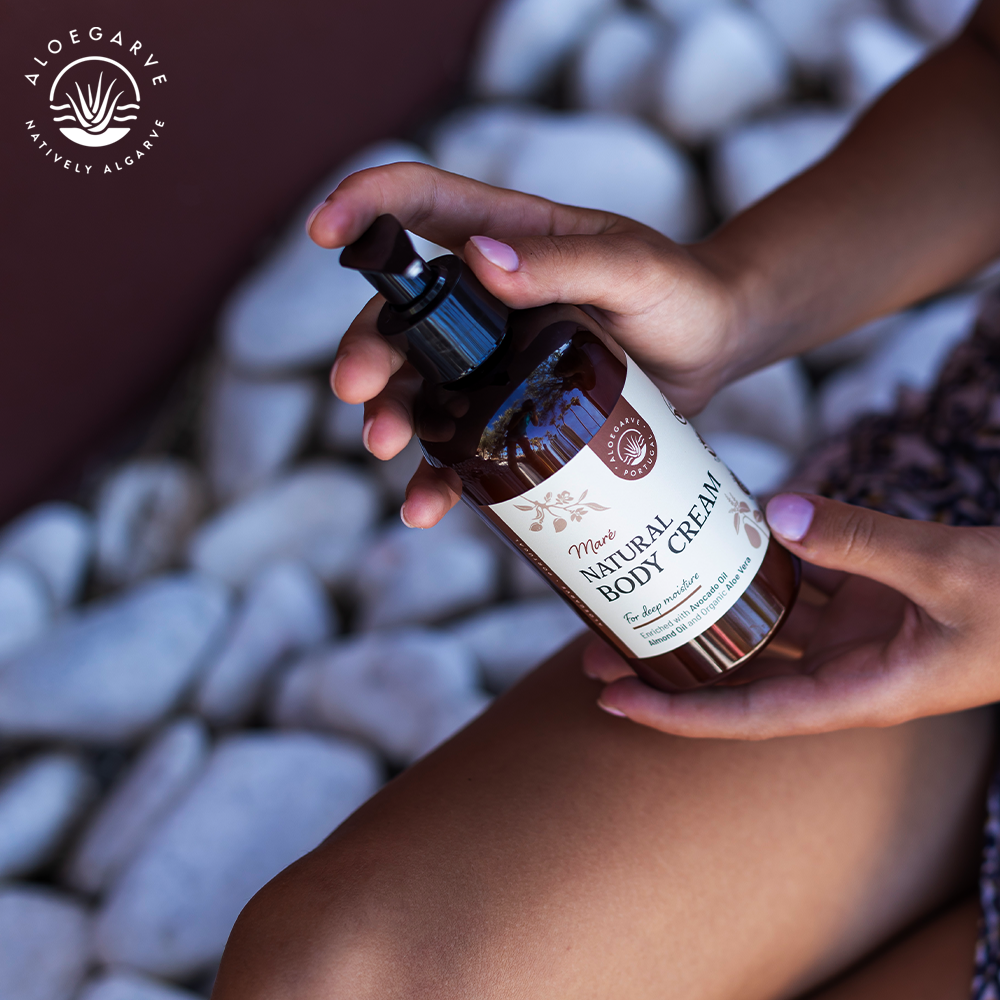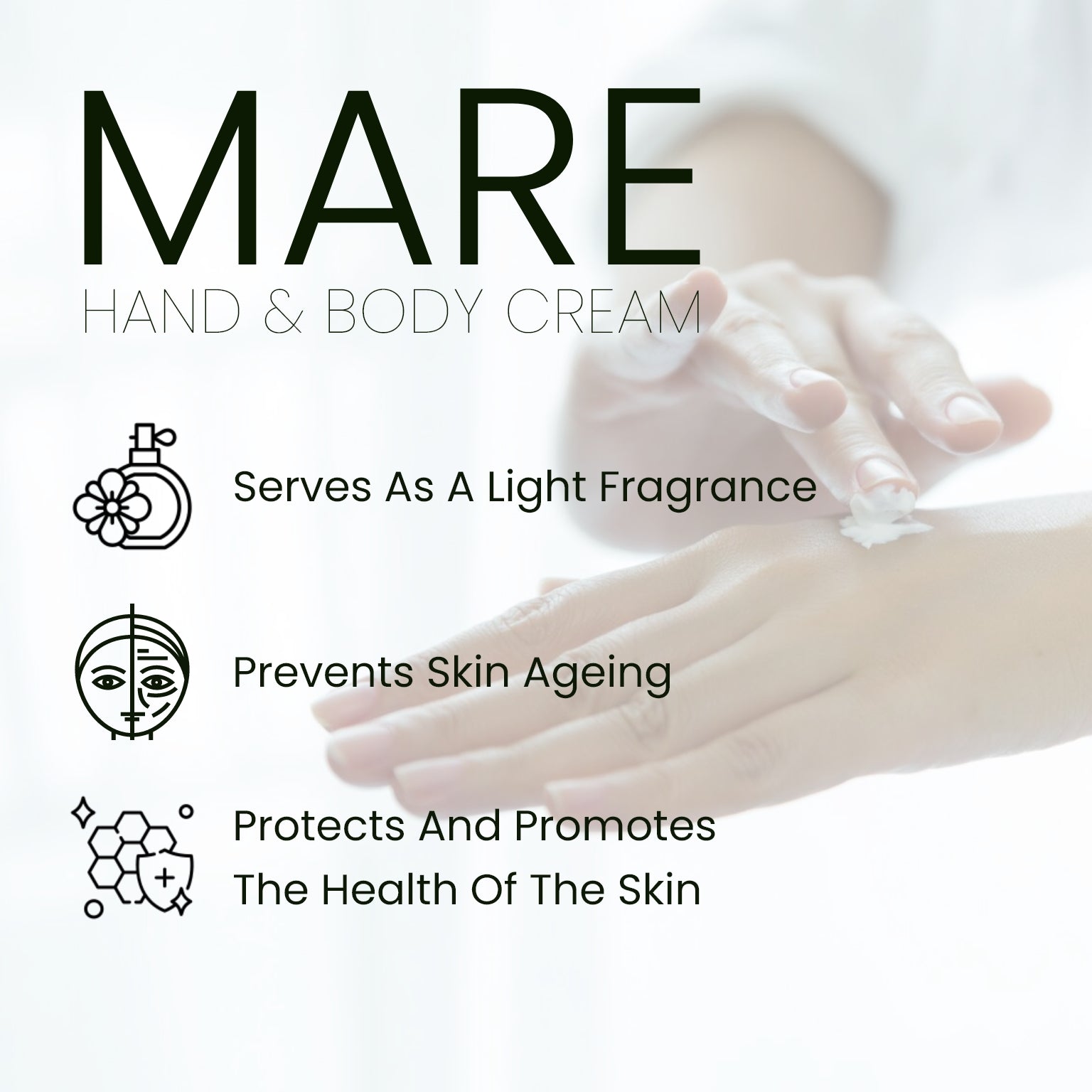 Introducing our Skin Immunity Boost Body Cream "Mare", the ultimate embodiment of natural luxury. This multi-purpose body cream caters to your skin's every need, acting as a rich moisturizer and a soothing balm, while being an excellent medium for massage or spa treatments.
"Mare" draws its strength from the heart of nature. It harnesses the restorative power of Aloe Barbadensis Leaf Water, a highly revered ingredient known for its profound skin-soothing and moisturizing properties. Aloe has long been used for its therapeutic effects, helping to calm skin irritations and inflammation, promoting faster healing of minor cuts or burns, and providing intense hydration to the skin.
Accompanying the Aloe is Glycerin, a natural humectant that keeps your skin's moisture locked in. Glycerin not only attracts water from the air into your skin's outer layer but also forms a protective layer that helps prevent moisture loss, making it a perfect companion to the aloe water in hydrating and protecting your skin.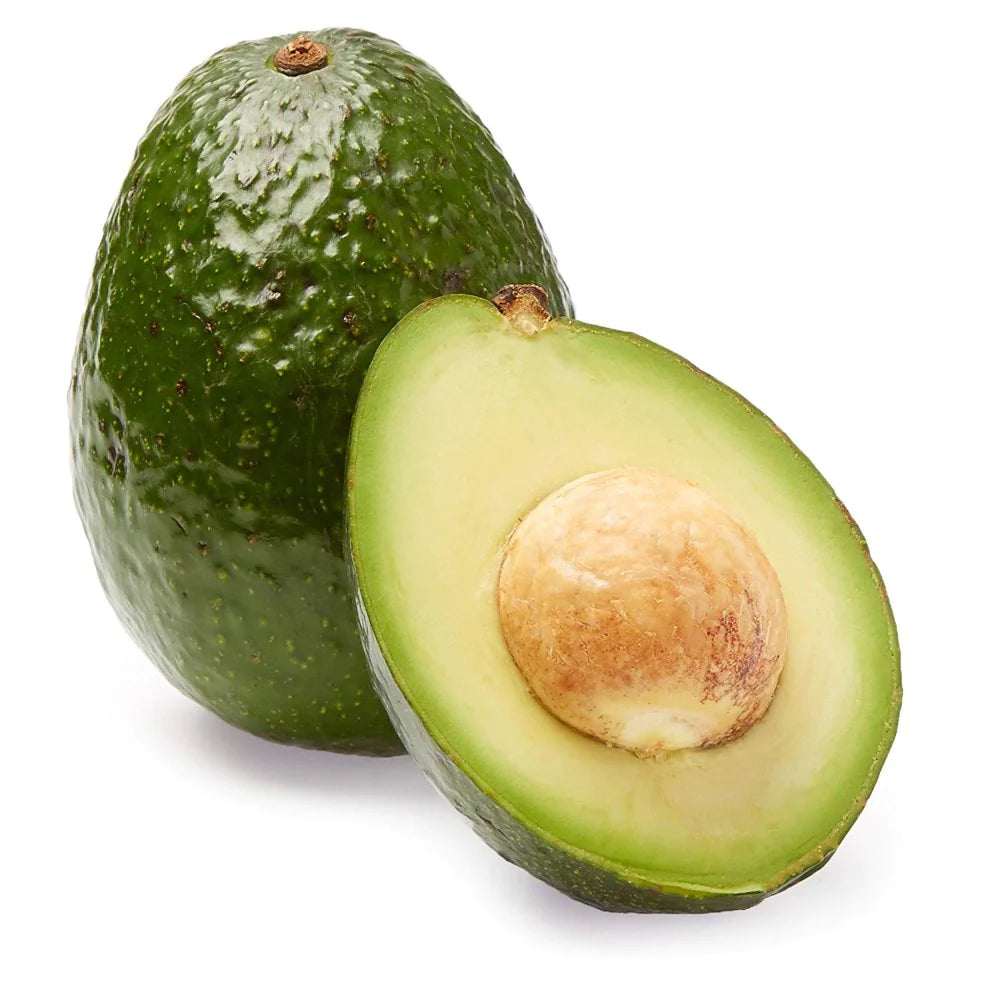 Benefits Of Avocado Oil
The formulation doesn't stop at hydration. It boasts a powerful blend of plant-derived oils including Glycine Soja, Prunus Amygdalus Dulcis (Sweet Almond Oil), and Persea Gratissima (Avocado Oil). These oils are packed with essential fatty acids, vitamins, and antioxidants. They deeply moisturize, assist in skin cell regeneration, fight oxidative stress, and fortify your skin's natural barrier function, effectively boosting its immunity.
Camellia Sinensis Leaf Water, better known as Green Tea extract, brings its powerful antioxidant properties to this blend, defending the skin against environmental stressors. Known to reduce inflammation and soothe the skin, it contributes to the overall calming and revitalizing effect of the body cream.
Incorporated into the cream is also Aloe Barbadensis Leaf Powder that offers an additional boost of nourishment and calming to the skin. It ensures that even the most sensitive skin feels soothed, refreshed, and rejuvenated.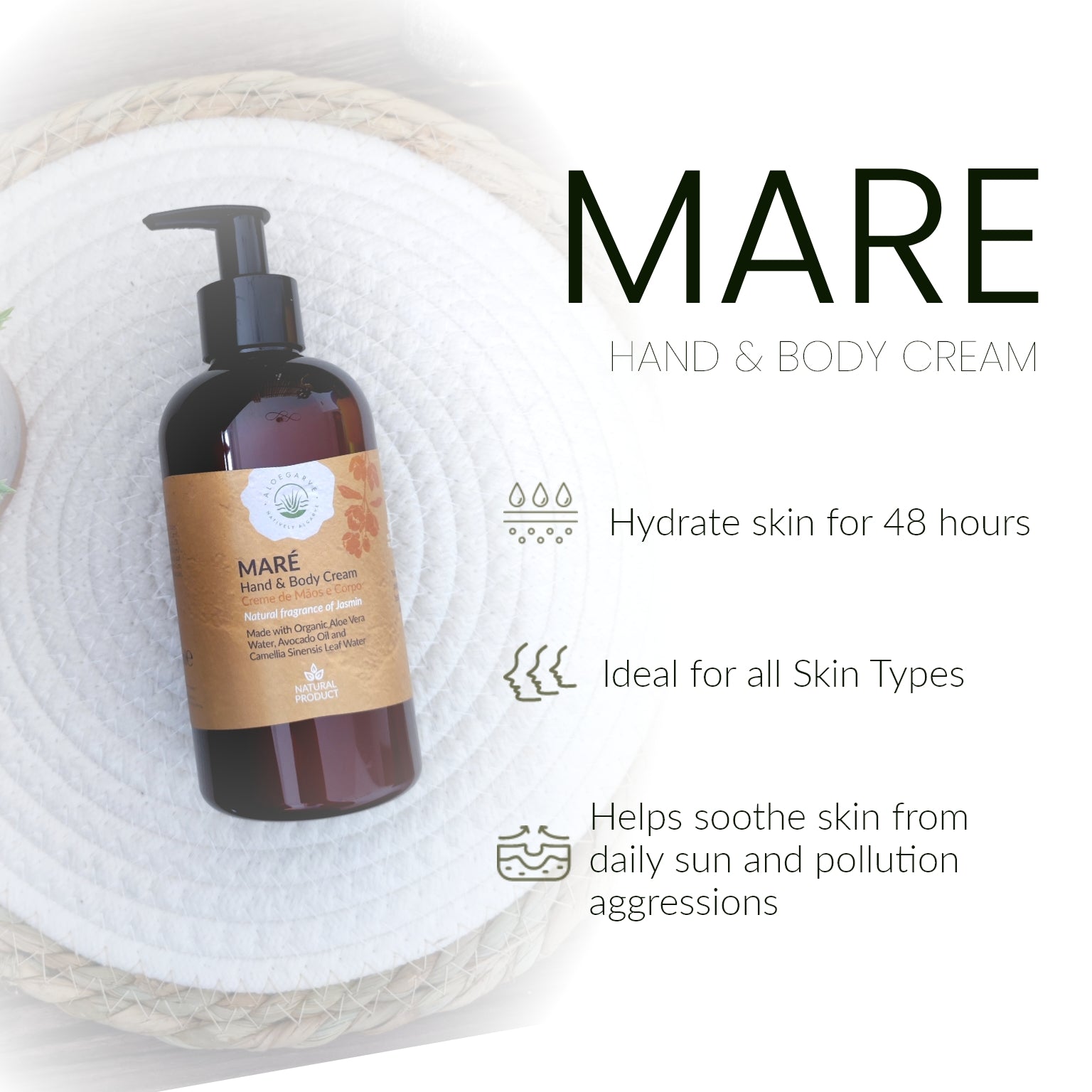 The experience of applying the "Mare" body cream is elevated by its rich, luxurious texture. It glides smoothly over your skin, absorbing quickly yet leaving a sense of lasting moisture without any greasiness. The cream leaves a protective layer on your skin that helps to shield it from environmental aggressors throughout the day.
The scent of the cream is a sensory delight. Composed of natural fragrances, it infuses your skincare routine with a harmonious blend of aromatic notes, evoking a feeling of serenity and relaxation.
In conclusion, the Skin Immunity Boost Body Cream "Mare" is not just a skincare product; it is an experience that brings spa-like luxury to your daily routine. It has been crafted to cater to your skin's need for deep hydration, nourishment, protection, and comfort. Incorporate it into your skincare routine and allow the power of nature to nurture and revitalize your skin.
Our Aloe Vera Farming
Our Aloe Vera production is located in the Algarve, a sunny region in the south of Portugal.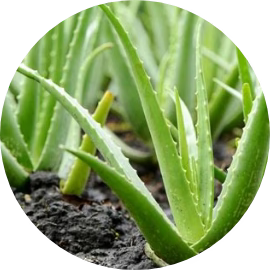 No Pesticides
We do not treat our Aloe Vera plants with any pesticides so that they can grow naturally and maintain their natural properties.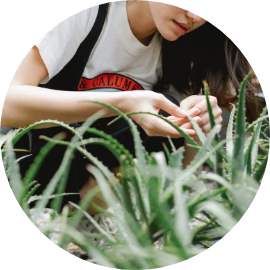 Plant with love and care
We farm our fields with traditional methods and treat each plant with love and care.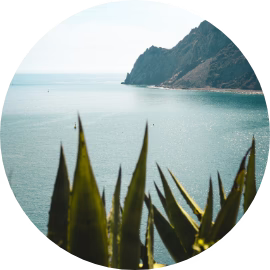 Close to the Atlantic Ocean
With close proximity to the Atlantic Ocean (5 km from the sea), our plants breach fresh sea air.
Skin Type

Combination

Ingredients

Aqua Aloe Barbadensis Leaf Water Glycerin Cetyl Alcohol Glyceryl Stearate SE Caprylic/Capric Triglyceride Glycine Soja Oil Prunus Amygdalus Dulcis Oil Persea Gratissima Oil Camellia Sinensis Leaf Water Glyceryl Citrate/Lactate/Linoleate/Oleate Aloe Barbadensis Leaf Powder Stearic Acid Palmitic Acid Tocopherol Xanthan Gum Parfum Potassium Sorbate Benzoic Acid Benzyl Salicylate Citral Citronellol Geraniol Limonene Linalool

Benefits of Active Ingredients

• Aloe Barbadensis Leaf Water: Known for its soothing, moisturizing, and healing properties, it supports skin health and reduces irritation.

• Glycerin: A humectant that helps retain moisture, keeping the skin hydrated and soft.

• Glycine Soja Oil: Derived from soybeans, it's an antioxidant-rich oil that helps to protect the skin from damage by free radicals. It's also a good source of essential fatty acids and vitamin E.

• Prunus Amygdalus Dulcis Oil: Almond oil is a powerful moisturizer that can soothe and soften the skin. It is also rich in vitamins A and E, which help protect the skin from sun damage and premature aging.

• Persea Gratissima Oil: Avocado oil is rich in vitamins A, D, and E, as well as fatty acids, that nourish, moisturize, and protect the skin.

• Camellia Sinensis Leaf Water: Green tea water has antioxidant and anti-inflammatory properties, helping to soothe the skin, reduce redness, and protect against environmental stressors.

• Aloe Barbadensis Leaf Powder: Similar benefits to Aloe Barbadensis Leaf Water, this powder also offers enhanced exfoliating properties, removing dead skin cells and promoting skin renewal.

• Tocopherol: Also known as Vitamin E, it is a potent antioxidant that helps protect the skin from environmental stressors like pollution and UV rays.

Remember, the combined effect of these ingredients in the Skin Immunity Boost Body Cream "Mare" is designed to boost the skin's natural defenses, keep it well-nourished, and maintain its healthy appearance.>
Usage Instructions:
Use daily after bath or shower. Apply a generous amount of the cream to your body, focusing on areas that are particularly dry or in need of attention. Gently massage the cream into your skin using circular movements until it is fully absorbed. For a spa-like experience, use as a massage cream, applying a larger amount and working it into the skin with kneading motions.
Warnings:
For external use only. Avoid contact with eyes. Discontinue use if irritation or rash appears. Keep out of reach of children.