Regular price
Sale price
$28.00 USD
Unit price
per
Sale
Sold out
High SPF Protection, Outdoor Sports, Chemical-Free, Nourishing,Hydrating, All Skin Types, Eco-Friendly, Non-Toxic.
When it comes to high sun exposure during your outdoor activities, trust the Ironman Sunscreen SPF50 "Barlavento". Specially designed for outdoor sports enthusiasts, this mineral-based sunscreen provides robust SPF50 protection. Its unique formula contains skin-loving ingredients like Aloe Vera and natural oils that nourish your skin while guarding against harmful UVA and UVB rays. Keep your skin safe, nourished, and visibly healthy with Barlavento.
View full details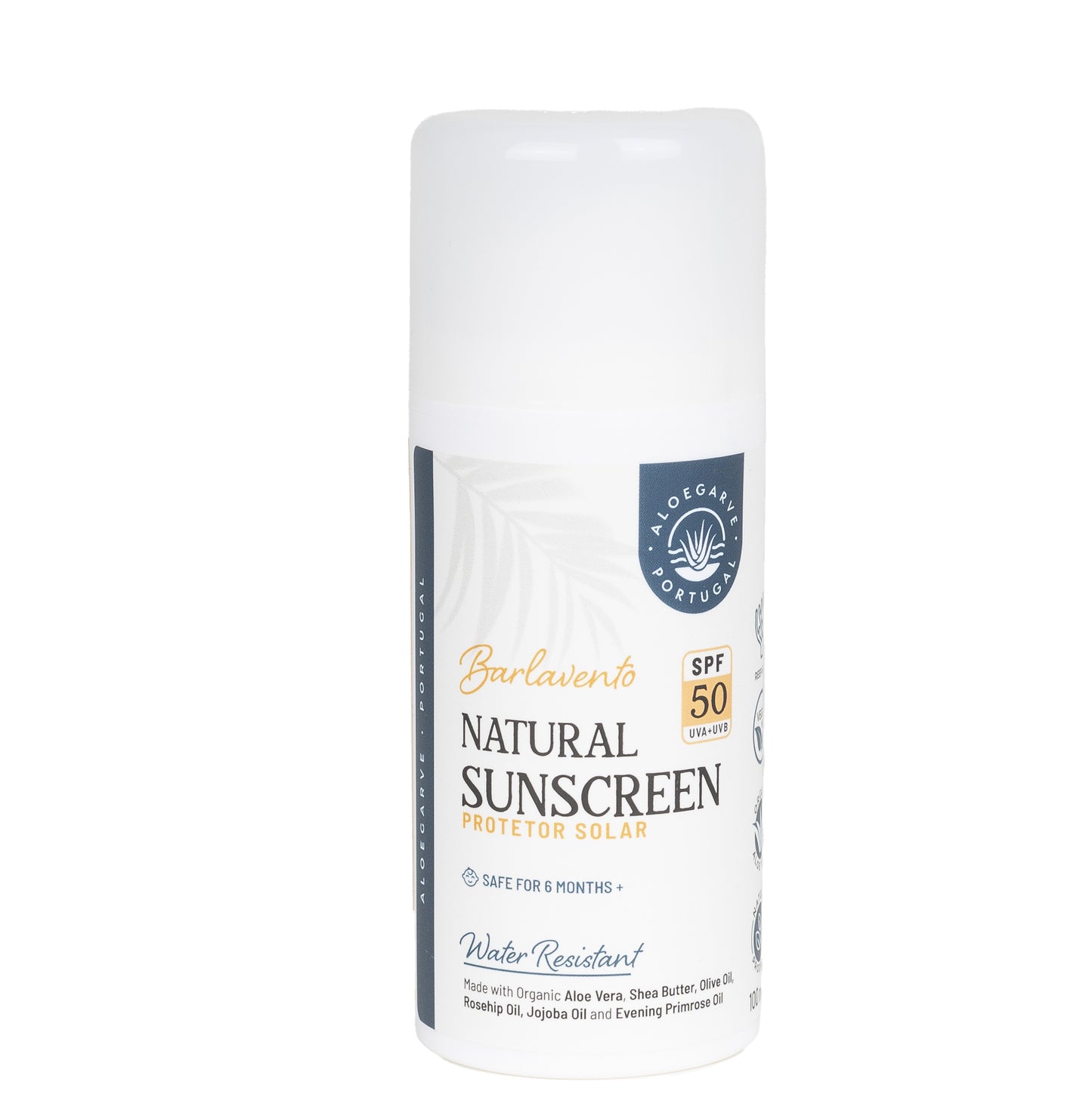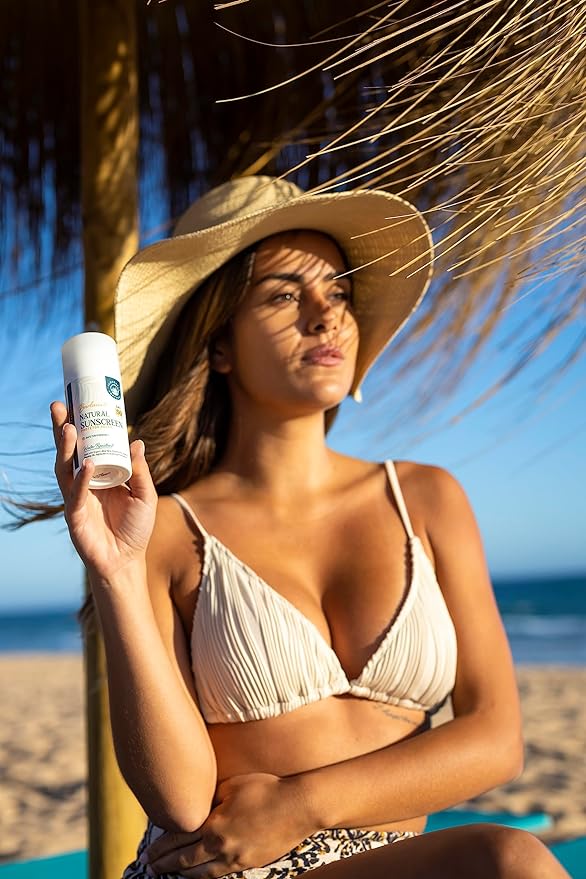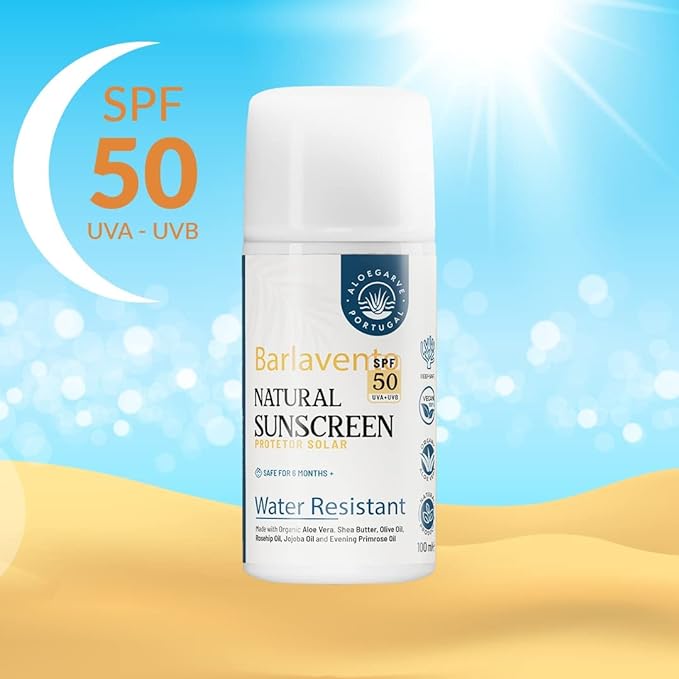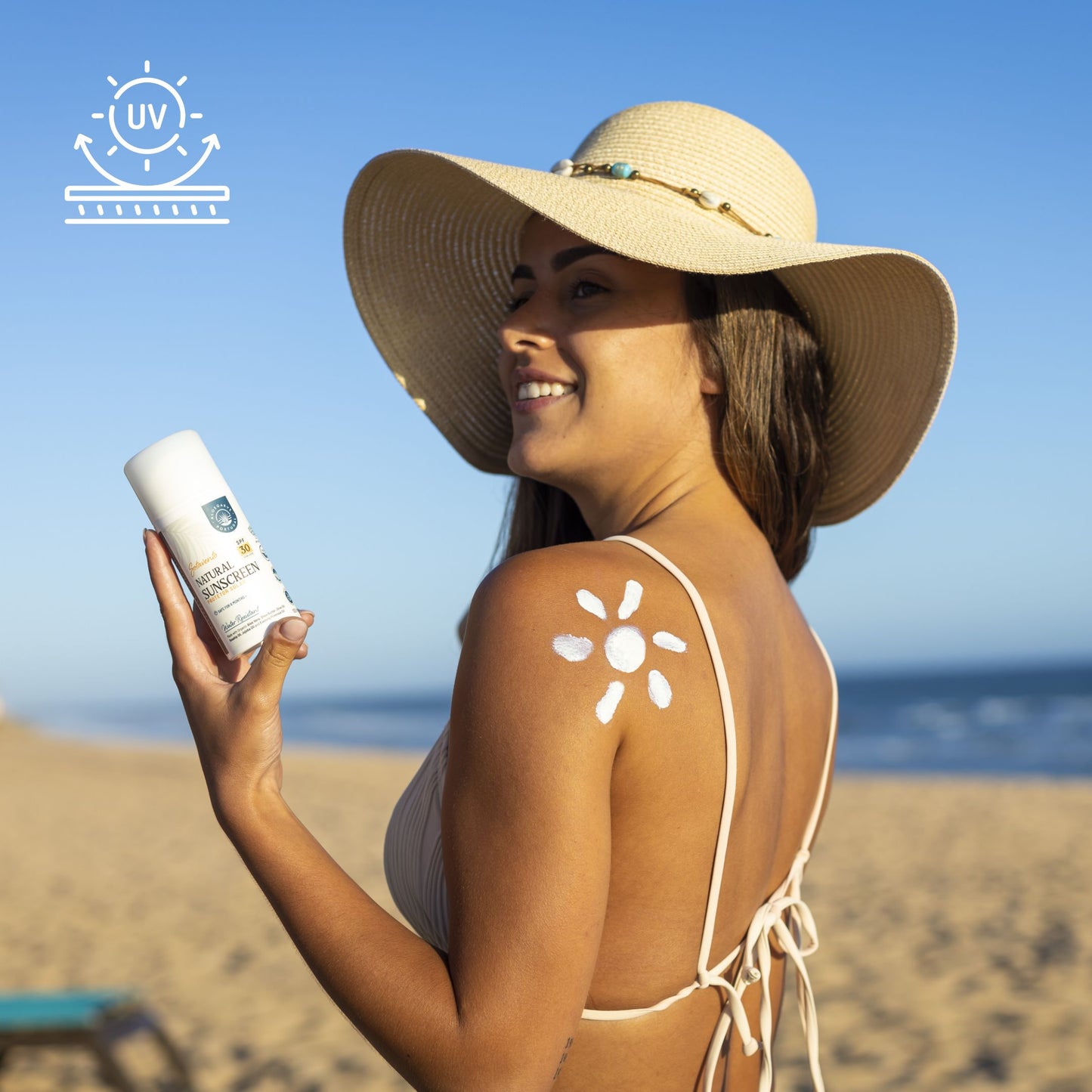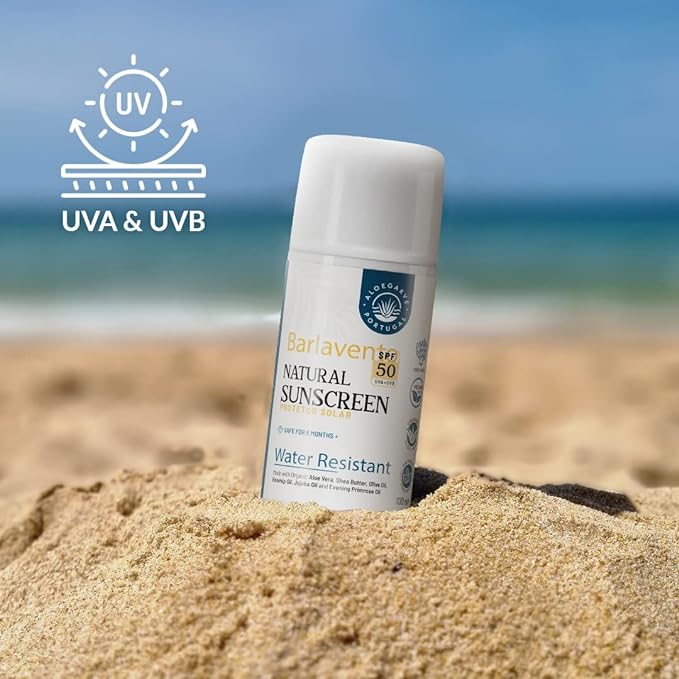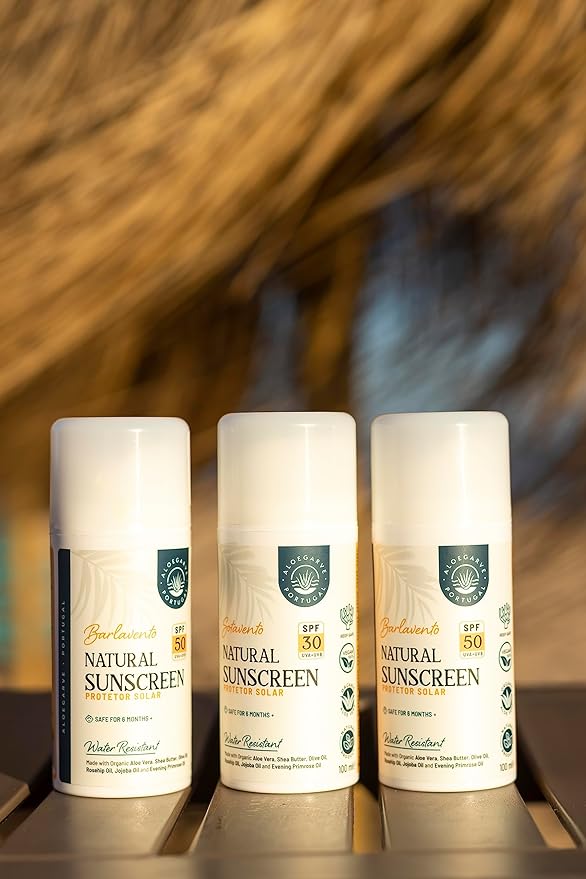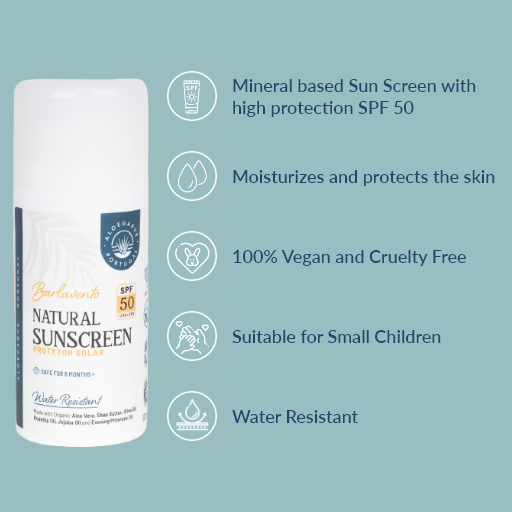 When your passion drives you outdoors, let Ironman Sunscreen SPF50 "Barlavento" protect you from the relentless sun. This high-performance sunscreen is specially designed to withstand high and continuous sun exposure, making it ideal for outdoor sports, surfing, bicycling, and more.
Barlavento features a blend of Zinc Oxide and Titanium Dioxide, natural minerals that create a physical barrier on the skin's surface. They reflect harmful UVA and UVB rays away from your skin, offering robust SPF50 protection. Unlike chemical sunscreens, which absorb UV rays and can generate heat and potential irritation, Barlavento guards your skin without such risks.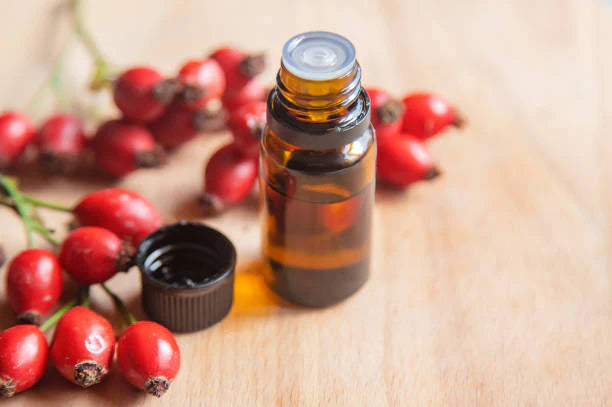 Benefits Of Rosehip Oil
Despite its powerful protection, Barlavento is gentle on the skin. At its heart is Aloe Vera, celebrated for its soothing and hydrating properties. This wonder ingredient helps to calm any sun-induced irritation while delivering a light layer of hydration. The result? Even under the sun, your skin stays comfortable and soft.
But our commitment to skin wellness doesn't stop there. Shea Butter, Olive Fruit Oil, and Jojoba Seed Oil provide intense nourishment, ensuring your skin remains supple and moisturized, even after hours in the sun. Rosehip Fruit Oil and Evening Primrose Oil offer a bonus dose of antioxidants, helping to defend your skin against free radicals that can cause premature aging.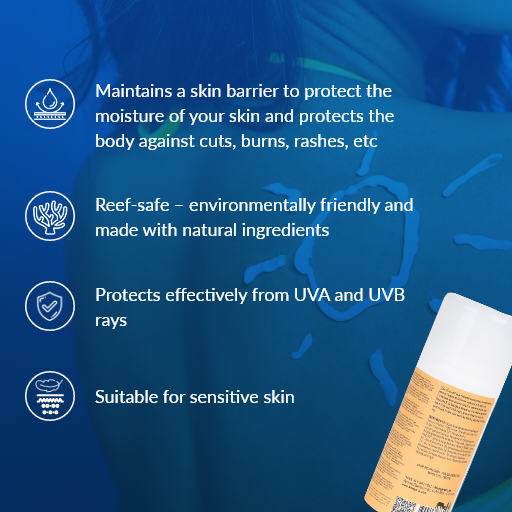 Application is straightforward. Barlavento is designed to leave a thin, white layer on the skin, signifying the physical barrier between your skin and the sun. This mild whiteness is a hallmark of mineral sunscreens, offering visible assurance of its protective action.
Barlavento is proof that sun protection can be safe, effective, and tailored to your active lifestyle. Don't let sun exposure limit your passion.
minerals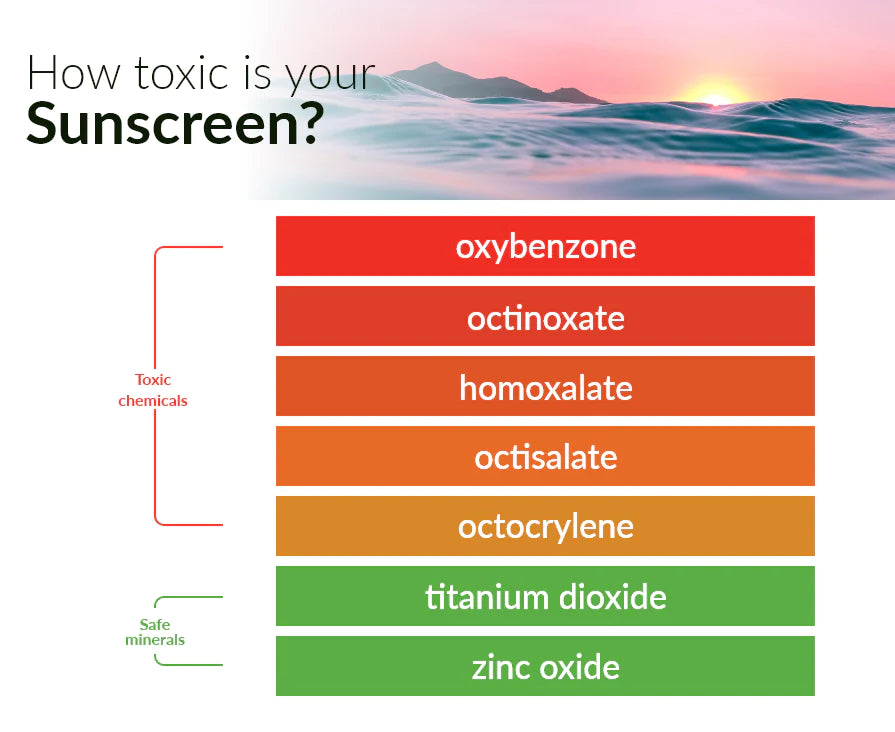 Our Aloe Vera Farming
Our Aloe Vera farm is located in the Algarve, a sunny region located in South Portugal.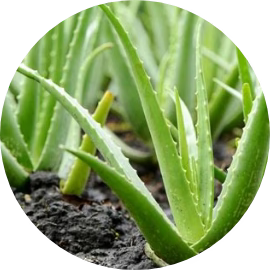 No Pesticides
We do not treat our Aloe Vera plants with any pesticides so that they can grow naturally and maintain their natural properties.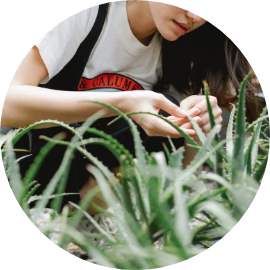 Plant with love and care
We farm our fields with traditional methods and treat each plant with love and care.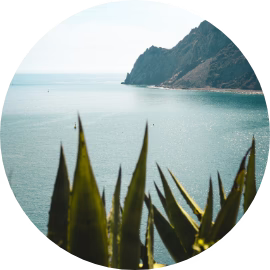 Close to the Atlantic Ocean
With close proximity to the Atlantic Ocean (5 km from the sea), our plants breach fresh sea air.
Skin Type

Combination

Ingredients

Aqua Aloe Barbadensis Leaf Water Caprylic/Capric Triglyceride Titanium Dioxide Zinc Oxide Glycine Soja Oil Polyglyceryl-2 Dipolyhydroxystearate Polyglyceryl-3 Diisostearate Butyrospermum Parkii Butter Glycerin Olea Europaea Fruit Oil Stearic Acid Alumina Glyceryl Oleate Canola Oil Rosa Canina Fruit Oil Simmondsia Chinensis Seed Oil Oryza Sativa Bran Oil Oenothera Biennis Oil Aloe Barbadensis Leaf Powder Tocopherol Bisabolol Potassium Sorbate Benzoic Acid Magnesium Sulfate

Benefits of Active Ingredients

• Zinc Oxide and Titanium Dioxide: Act as physical barriers against UVA and UVB rays, reflecting them off your skin.

• Aloe Vera: Offers calming, hydrating effects to the skin.

• Shea Butter, Olive Fruit Oil, Jojoba Seed Oil: Provide intense nourishment and moisture to the skin, keeping it supple.

• Rosehip Fruit Oil, Oenothera Biennis (Evening Primrose) Oil: Packed with antioxidants, offering added protection against skin-damaging free radicals.
Usage Instructions:
Before sun exposure, apply small patches of Barlavento sunscreen all over the skin area you want to protect. Distribute the patches evenly using your fingers until a thin, white layer is visible. This will ensure optimal UV protection. Due to its mineral formulation, a mild whiteness will appear on the skin. Reapply at least every 2 hours, or immediately after swimming, sweating or towel drying for continuous protection.
Warnings:
Avoid contact with eyes. If contact occurs, rinse thoroughly with water. For external use only. Keep out of reach of children. If swallowed, seek immediate medical attention.